Shipping company predicts death of airline checked hold baggage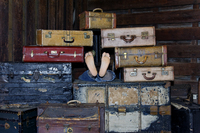 Airport check-in desks are turning into battlegrounds and Twitter streams are littered with irate rantings. The culprit? Excess baggage charges. Anglo Pacific International believes that this struggle will soon be confined to history.
Steve Perry, Founder and Director of Anglo Pacific, says, "High excess baggage charges are currently gaining plenty of media exposure but in reality this is nothing new. We've been in business for 35 years and ship around 20,000 consignments of personal and household effects annually. Our customers, whether they be migrants, students, employees on overseas secondment or returning foreign nationals, realise that using Anglo Pacific's door-to-door courier delivery service will cost them around a third of the price of airline excess baggage. No more struggling at check-in or getting wound up over exorbitant charges."
The fact of the matter is that airlines are making it harder and pricier for passengers to check-in baggage for very good reason. Rising fuel costs, extra taxes and hard-hit economies have conspired against the aviation industry as they see their profits nosedive. Not only does this mean that they have to find extra income from stealth charges such as extra legroom seats, priority boarding, in-flight catering and so on, but it also means that they have to turn their aircraft round quickly – planes only make money while they're in the air. Checked baggage simply gets in the way.
Airlines would like checked baggage to vanish altogether as it slows down the turnaround on the tarmac and baggage handlers have to be paid regardless of the volume going into the hold. What's more these handlers have been known to strike causing even more financial headaches. The flying public is wising up. Checked baggage has dropped considerably with 85% of passengers checking in a suitcase five years ago versus less than 20% now, and the boarding process is now dominated by the tedious overhead locker hand baggage jigsaw puzzle. The message is pack light and let an independent international shipping company handle the rest.
Steve continues, "According to their websites, for a short flight with easyJet excess baggage is charged at 11GBP per kilo at the airport, 20GBP per kilo for RyanAir. Analysts have worked out that at times it is more economical to buy a second seat and bring a friend to share your allowance. But this all becomes irrelevant if you use Anglo Pacific. We supply, deliver and collect bespoke export strength cartons for owner packing in the comfort of your home and deliver it all to your door overseas – for far cheaper than any low cost airline. And we'll log and track each item so you know where it is at all times. As fully bonded members of the British Association of Removers, your belongings are in safe hands – and if you've ever watched an airline baggage handler at work, that's a real comfort."
Anglo Pacific's speciality is sending luggage worldwide via its express courier service to the common long-haul destinations (five to seven days transit) such as Australasia, North America, South Africa, South East Asia and China. A typical 15kg suitcase with Anglo Pacific costs £139 door-to-door. For short-haul European destinations, a typical 15kg suitcase with Anglo Pacific would cost £77 door-to-door (two to three days transit). Check out Anglo Pacific's prices and see what you save at anglopacific.co.uk/quoteentry.htm.