Make your smile your best accessory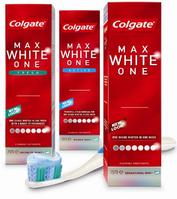 If there's one thing that never goes out of fashion, it's an attractive bright white smile. Follow the A-List lead and boost your confidence to the Max with new look Colgate Max White ONE toothpaste - clinically proven to make teeth one shade whiter in just one week!*
MAXimise your smile
With a sleek and sexy new look, Colgate Max White ONE is the perfect addition to any make-up bag, and has all the ingredients to make sure you stand out from the crowd. Whatever your outfit, a dazzling smile is the perfect accessory to complete every look, especially with daring lipstick!
How does it work?
Max White ONE contains white accelerator micro-crystals. As you brush, the formula releases high cleaning silica, an ingredient used by dentists, which helps to recharge the natural whiteness of your teeth, leaving you with a smile to swoon for!
The new lLook Colgate Max White ONE is also available in two new variants – Fresh and Active. MaxWhite One Fresh delivers a boost of freshness, whilst MaxWhite One Active provides powerful stain removal.
Keeps teeth whiter for longer!
Colgate Max White ONE is designed to safely remove stains and prevent tartar build-up, helping you achieve one shade whiter teeth after just one week*, as well as keeping teeth whiter for longer with continued use. It is this dual action that makes Max White ONE brilliantly effective**.
Use Colgate Max White ONE toothpaste with the new Colgate Max White ONE 360° manual brush for even more effective stain removal - revealing the natural brilliance of your teeth!
Discover a new look for a new you by visiting colgatemaxwhite.co.uk for more information on how you can make your smile your best fashion accessory.
*Study Summary Boneto et al Tooth Whitening Efficacy Spain 2009

** For best results, brush teeth for two minutes, three times a day.