Get the look with MesmerEyez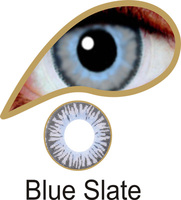 They say that eyes are the window to your soul, and if you covet the peepers of your favourite celebrity then help is at hand from British brand MesmerEyez, who have established themselves as pioneers in the cosmetic lens industry.
Blonde bombshell Kate Bosworth is known for her striking set of unusual eyes; and her mismatching pair of one blue and one brown has made her eyes among the most famous and coveted in the world. And if you want to imitate Bosworth's unique look, now you can, thanks to MesmerEyez and their impressive range of coloured lenses. Whether you want to create a combination of your own or wear just one lens, the choice is yours and the options are endless.
Blue Slate, from £14.99
Kate Bosworth
If, however, Kate's two-tone eyes are slightly too daring for you and you've always hankered after a sparkling pair of blue eyes a la Katy Perry, MesmerEyez's huge selection of blue lenses will give you that pop-star look in no time. From Azure Blue to Indigo Sky and everything in between, there's a shade of blue for everyone, whether you want a subtle colour boost or a dramatic change.
Misty Blue, from £4.99
Katy Perry
Finally, why not look to chart-topper Rihanna for inspiration and co-ordinate your eye-colour with your outfit? Famous for her chameleon style and updating her hair so often we mere mortals can barely keep up, Rihanna is also a fan of changing her eye colour to compliment her latest look. And with prices for MesmerEyez lenses starting at just £4.99, why not make like this Bajan beauty and alternate your eye-colour as often as your outfit?
Hazel Bronze, from £14.99
Rihanna
For more information, visit mesmereyez.com.