Let the experts help you reach the top!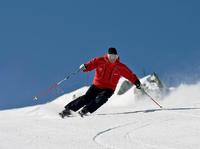 To be the very best, you have to learn from the very best. That's why International Academy (IA), with more than 12 years of experience, offers only the highest quality instructor programmes in partnership with resident ski and snowboard schools in selected world-class resorts.

And now you can enjoy a brand new level of excellence with the launch of IA's Advanced Ski & Snowboard Improvement Programme. This is the perfect opportunity to develop your skills in varying terrains and maximize your talents. Not only will you become more proficient when skiing or boarding on the groomed slopes, but you will be shown by experts how to perform in powder, master moguls and excel off-piste.

Set against the magnificent backdrop of Whistler and Blackcomb, each week-long programme includes four full days of instruction in small groups – with a maximum of six people in each group, you can be confident you are learning with like-minded people of the same ability level.

Your journey to excellence begins at 8.30am on Sunday at Dusty's, at the base of the Creekside Gondola, with a guiding day. This is followed by instruction days on Monday, Tuesday, Thursday and Friday, meeting at 9.30am for a 10am start at the roundhouse on Whistler Mountain. Students and instructors enjoy a well-earned break for lunch at noon, with the instruction finishing about 3pm

To help you fine tune your skills, you will also be talked through video analysis of your progress – and when you've completed your final day, you will receive a written personalised evaluation of your week, which includes top tips and invaluable suggestions for your future development.

The programme – which includes seven nights accommodation, a six-day Whistler/Blackcomb lift pass, lift line queue priority, and a welcome and farewell get-together – runs from Saturday to Saturday and you can join as many weeks together as you like.

The majority of International Academy students choose to stay two weeks to benefit from the weekend rest and then put all of their newfound skills into practice. This means you can capitalize on your improvements and make greater strides towards even higher skiing levels.

Here's what former students have to say about International Academy courses.

"I loved the trip, met so many great people and had much fun indeed. The ski instructors were great, had us all in stitches, were very respectful of individual skiing abilities and showed us all a good time. I was very sad to leave!"
Sara Jakubowicz

"I would advise anyone who is thinking about doing this type of course to go for it! You will love it! General tuition and improving my own skiing ability has been fantastic."
Kate Royle

The price of the exclusive one-week Improvement Programme is £1,070 and the course included accommodation at the 3* Sundial Suites on room only, return resort transfers and the course. Return scheduled flights from London to Vancouver are not included and start from £488 with Canadian Affair The course is available from November 24 until March 30, 2013. For more information, visit international-academy.com.