Seasonal fall for average used car values in November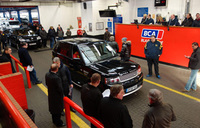 Across the board used cars averaged £6,421 in November, a £60 (0.9%) decrease compared to October, according to BCA's latest Pulse Report. Despite this fall, November 2012 recorded the third highest monthly value on record and the year-on-year figures show a £220 rise (3.5%) over 2011, with cars being on average older and higher mileage.

Values fell back in all three sectors, although year-on-year values remain well ahead in the larger volume sectors of fleet/lease and dealer part-exchange.
BCA Communications Director Tony Gannon commented, "It was not unexpected to see values falling from the record levels achieved in October. The marketplace is entering a slower phase in the run-up to the year-end and demand faltered a little in November - a seasonal element to the annual buying cycle."

He added "Overall, prices remain strong when taking the longer view and average values during 2012 have probably exceeded the expectations of most market watchers. While much of this is down to the supply issues affecting the wider market, overall performance has been very good when placed in the context of the relatively weak economy and low business confidence."

Fleet & lease cars averaged £8,123 in November, falling by £253 (3.0%) compared to October's record but still significantly ahead of the values seen earlier in the year. CAP performance fell by two points to 94.4% compared to October, while performance against original MRP (Manufacturers Retail Price) fell by a point to 40.48% across the fleet & lease sector.

Year-on-year, the fleet & lease sector recorded a significant £735 (9.9%) uplift, which means year-on-year comparisons have recorded near or over double digit improvements for the past six months. Average age and mileage continue to fall, having peaked earlier in the year.
Average values in the nearly-new sector fell by £1,072 to £20,529, while performance against CAP Clean fell by over a point to 98.8%. Nearly-new values will always be affected by changing model mix in this low volume sector.