Brazil becomes investor-only market as sporting events loom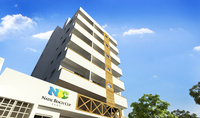 With the 2014 FIFA World Cup and Rio 2016 Olympics getting ever closer, foreign house hunters are no longer looking at Brazil for just holidays but also for pure investment opportunities. Specialist Brazil-based agent uv10.com is now selling more off-plan investor properties than anything else.
Samantha Gore, Sales Manager for uv10.com, explains, "When we set up almost six years ago, we had a truly international client base – Brits, Americans, Australians, Canadians, Scandinavians and Dutch, who were mainly looking for a Brazilian beachside bolt-hole for sunshine holidays. They were the pioneers, the ones who loved Brazil for its culture and cuisine, coastline and Carnival. Today the shift is marked. Ever since Brazil became an economic powerhouse, rich in oil, elevating millions upon millions of people from lower class to middle class and about to host famous global sporting events, the holiday home buyer has been all but replaced by the pure investor."
For 2012 moving into 2013, uv10.com's most popular product is low entry-level priced investment property. Their investor clients understand Brazil's potential and realise that they're better off putting their money into a mid-term investment in Brazil than leaving it sitting in a high street bank account doing little or nothing. The nation that is firmly in the driving seat and currently outnumbering all other enquiries to uv10.com is, perhaps surprisingly, Britain.
Samantha continues, "The Brits are back. They have seen the positive impact of London 2012 and want to try and reap the rewards from a nation that has far higher to climb in terms of improving its infrastructure and increasing its property values. Nine of out ten new enquirers refer to the World Cup and the Olympics with a view to taking advantage of the resultant investment potential. In Natal, a World Cup host city, they will get a new stadium, improved transport networks and a legacy of job creation. Meanwhile, the private consortium responsible for the construction of Sao Gonçalo do Amarante Airport on the outskirts of the City, the largest airport complex in Latin America, expect it to be ready by the end of 2013 – perfect timing for the sporting occasion."
uv10.com's two big sellers this year have been off-plan product targeted to the local Brazil market, namely Golden Fields and Natal Beach Cup, both in the northeastern region of Rio Grande do Norte. The developer of 50-unit Golden Fields, due for completion in 2014, is offering a 6% four year renewable rental guarantee and there are just five units still up for grabs. Recently launched Natal Beach Cup has the same guaranteed four year 6% rental return or full rental management for those choosing to operate outside of the guarantee. With prices for the former starting at 167,309 Reals, around 50,000 pounds, and the latter starting at 110,059 Reals, around 33,000 pounds, with staged payments up to the June 2014 completion, these are ideal hands-free safe property investments.
On the Market:

Natal Beach Cup, a development of 23 one and two bedroom holiday apartments in Ponta Negra, one of Brazil's most famous beaches just 15 minutes drive south of Natal city centre. Fully licensed and priced at 15% below the nearest comparable development, one bedrooms start from 110,059 Reais, approx 33,477 pounds, with a four-year 6% rental return in place upon completion. Clients wishing to resell to the local market will get assistance from the developer to give reassurance on exit strategy.
For more information, visit uv10.com.