New album from Ra Ra Riot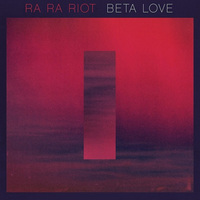 Ra Ra Riot have announced the release date for their third album, Beta Love, as March 18th for the UK on Barsuk Records. The album marks the band's first outing as a four piece with members Wes Miles on vocals, Milo Bonacci on guitar, Mathieu Santos on bass and Rebecca Zeller on violin forming the core of the group. Beta Love's songs are informed by the works of cyperpunk novelist William Gibson and futurist Ray Kurzweil's musings on the technological singularity and transhumanism.
Inspired by their lean new lineup, the recording process found Ra Ra Riot's members exploring and redefining their roles within the new makeup of the group. They built upon demos created mostly by Miles and producer Dennis Herring (Modest Mouse, Elvis Costello, Wavves) at Sweet Tea Studios in Oxford, MS. For the first time in their history the band recorded in a warmer climate and found themselves stimulated by the balmy Southern air and the physical setting of Oxford. Joined by session drummer Josh Freese (Devo, Nine Inch Nails, Weezer) the band enjoyed exploring its potential, experimenting with new influences and exciting sounds.
Mathieu said of the sessions, "Making the record was a lot of fun for us, because we were in a completely different environment, trying a completely new approach. We'd been used to arriving at a session with every song totally arranged and figured out, but in Oxford, a lot of the creative decision-making happened in the studio, on the fly. We wanted to be outside of our collective comfort zone for this record. We wanted to be open to new things happening. There was a lot of building up and tearing down with Dennis — a lot of problem solving, a lot of trial and error, and that was really exciting for us."
Formed in the basements and attics surrounding Syracuse University in 2006, Ra Ra Riot released their debut The Rhumb Line on Barsuk in 2008. NPR Music said their 2010 release The Orchard's "10 songs positively burst with sophistication, precision and polish."
Ra Ra Riot will tour extensively in the New Year.