HAIM are winners of the BBC Sound of 2013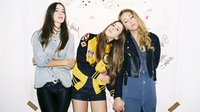 Californian pop band HAIM have been named as the winners of the BBC Sound of 2013 list of the most exciting new musical talent for the coming year.
The band, made up of three sisters - Danielle, 23, Alana, 21 and Este, 26 – have been described as 'R&B, pop and classic rock-inspired' and they've already begun to develop a considerable following after spending the latter part of 2012 touring with Mumford & Sons in the US and then Florence And The Machine on her UK tour.
213 UK tastemakers including DJs, critics and bloggers voted in this year's list, compiled by BBC News Online. They were each asked to name their favourite new acts.
The band said: "We are so unbelievably honoured to win the BBC Sound of 2013 list. We have found our second home in the UK! We can't wait to release new music and play as many shows as possible this year. Thank you to everyone who voted for us. We are so excited!"
HAIM's influences range from TLC to Britney, Destiny's Child to The Strokes - all of which they channel into their slick brand of rock. They are currently recording their debut album - due in spring - with James Ford, who has previously produced for Florence And The Machine, Arctic Monkeys and Klaxons.
Matt Wilkinson, NME's New Bands Editor, says: "After years of boring indie bands who seem to almost be embarrassed to be featured on mainstream radio or in magazines like NME, Haim are a shining light. Not only do they write brilliant songs, but they also want to be a really big deal. We knew this when we first profiled them last April; the fact they are now getting wider recognition is no real surprise - they have a knack for writing amazingly catchy singles, they're a killer live band and they talk-the-talk miles better than most other new bands. It's a rare and exciting combination."
A longlist of the top 15 artists for BBC Sound of 2013 was published in December and the top five acts have been revealed each day this week.
R&B/electronica duo AlunaGeorge from London are No.2 followed by New York rapper Angel Haze at No.3. Soul singer Laura Mvula from Birmingham took the No. 4 spot with Glasgow three-piece CHVRCHES at No.5.
BBC Radio 1 DJ Huw Stephens announced HAIM as the winners live on-air this morning. Huw said: "Haim have an unapologetic passion for music that shines in their songs. They're brilliant musicians who have a real talent for tunes that merge their tales of growing up in the 21st century with classic song-writing ability. They have an undeniable, contagious enthusiasm that will win them many more fans in 2013."
Este, from the band adds: "It's the craziest thing to think we're on a list with so many amazing artists. This year the five bands that were in the list were all female fronted. Am I right? I think it's amazing. Obviously we're all about the ladies. We love female vocalists and female musicians. It's kind of cool."
A range of interviews, live performances, tracks and videos by the top five acts are available on the BBC Sound of 2013 website and the BBC Red Button.
Red Button – Press the red button from any BBC TV channel to see interviews and live performances from each of the top five. Hosted by Huw Stephens. Running all day Fri 4 January and evenings for a week thereafter until Friday 11 January
Visit the Sound of 2013 website - to see HAIM interviewed by Huw Stephens along with an exclusive session video of the song 'Falling' performed at Maida Vale studios. You can also watch the band visit their heroes at Madame Tussauds in London. You can find biographies, interviews, and live performances from the whole longlist of 15 acts on the site
Huw's guide to the Sound of 2013 longlist - free download – hosted by Huw Stephens and featuring music by all 15 longlist artists. Available on the Sound of 2013 website.

Twitter users can tweet about the winners and the rest of the list using the hashtag #soundof2013
The BBC Sound of… list was started in 2003 and has a history of predicting the acts who will make it big. Previous years have picked out Adele, Jessie J, Ellie Goulding, Klaxons, Florence And The Machine, Plan B, Bloc Party and 50 Cent.