How much can you earn as a taxi driver?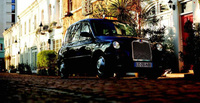 There isn't really a straightforward answer to the question posed above. In general, a taxi driver in London can expect to earn from £13,000 to £23,000 a year in profit, around £150 a day and £250 a night.
However, one must also take the various expenses involved into account – not least insurance (check DNA taxi insurance for competitive rates). You must also consider where the driver is based, as rates and the amount of customers available differ widely from area to area.
This article aims to discuss some of the factors that influence how much taxi drivers earn in the UK.
Yearly salary and expenses
Given that the average taxi driver puts in a forty to fifty hour week, they can expect to earn around £23,000 after expenses.
Expenses include purchasing the actual vehicle, which costs around £28,000, insurance of around £1,600 a year, and then garage fees on top of that, which usually amount to about £1,300. Bear in mind that there are repair fees involved, too.
Difference between Hackney Carriages and Private Hire Cabs
The roads seem to be saturated with Private Hire cabs nowadays. They are quite different to the service offered by traditional black cabs, but what are the differences in salary for the drivers of the respective vehicles?
There is, in fact, no 'average' to speak of, as how much the drivers get paid very much depends on location. Some estimate that you can earn up to £400 for a 60-hour week driving minicabs.
Advantages of being a cab driver
In terms of flexibility and freedom, you can't really ask for more. Since you'll be your own boss, you choose the hours that you want to work, and can fit it around your family life and other commitments.
Another positive note is that many who drive cabs say that they quite enjoy the opportunity to meet a wide variety of different people during their work.
Disadvantages of being a cab driver
Even if you stand to have a competitive salary, you still have to dish out thousands for the car, insurance and other expenses. Training is costly, too, along with mostly unpredictable working conditions – not all customers are sociable, after all.
Additionally, if you want to be making as much money as possible, you have to take into account that the best working times are between 10pm to 3am.