Bar Boulud kick starts the New Year with a bang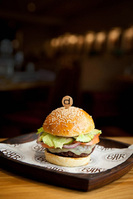 Bar Boulud, Knightsbridge's award-winning French-inspired bistro and wine bar at Mandarin Oriental Hyde Park, welcomes the New Year with an assortment of new highlights showcasing the outstanding food, drink and service which have established its position as a leading London destination.
Start the New Year with a Banger at Bar Boulud
Bar Boulud has created a new collection of sausages to start New Year 2013 with a bang! The selection includes the Toulouse, a duck sausage served with a white bean stew, and the Choucroute, a house-made frankfurter with sauerkraut and pork belly. To add to the fun, two of Bar Boulud's sausages will be available hot dog style on a bun; the Choucroute (frankfurter with sauerkraut, ketchup and mustard) and the Bar Boulud favourite, the Tunisienne (spicy lamb merguez with mint yoghurt and sweet pepper stew). These additions will be available on the restaurant's à la carte menu beginning January 2013 to compliment the Bar Boulud classics, including the Boudin Blanc, made with truffled white pork, and the Boudin Basque, blood sausage with spring onion mashed potatoes. Perfectly paired with the full range of beers available, Bar Boulud's celebrated sausages are all prepared onsite by the restaurant's world class Charcutier.
Bar Boulud offers a rare selection of beers, many sourced from small, artisanal producers, including Schaehallion lager from Clackmannanshire in Scotland, Bellerose blond ale from France and Anchor Liberty Ale from San Francisco, California, served on tap. New for 2013 from 14 January, Bar Boulud launches a beer flight, inviting guests' to taste a selection of three 75ml servings of draught beer for £5.
Knightsbridge Night Owls and Early Birds
For Knightsbridge night owls, Bar Boulud serves a Late Menu until midnight and a full selection of drinks and cocktails until 1am in the Bar and Lounge on Monday to Saturday, creating the perfect setting for a late night tipple and nibble. For early birds, Bar Boulud's full à la carte menu is available continuously throughout the day from 12 noon in the restaurant and a £23 per person three-course prix fix menu is served daily between 5 and 7pm, and showcases celebrated Boulud signatures such as the Coq au Vin and Gâteau Basque. Steps from the Knightsbridge underground station, Bar Boulud is conveniently located within reach of London's West End theatre district as well as The Royal Albert Hall in Kensington and The Royal Court theatre in Chelsea's Sloane Square. Pre-theatre dining guarantees a great start to an evening in the city.
Wine Down at Bar Boulud
Bar Boulud's acclaimed Sommelier David Vareille will be opening a selection of special jeroboams and large-format wines (up to 18 litres in size) from his cellar to start 2013 in style. Pop in during January to catch a glimpse of the theatrics as Vareille opens the world's largest size of wine bottle, a Melchior of Château Les Carmes Haut-Brion 1999 and an Imperial of Château Le Hourtin Ducasse 1996 from Bordeaux. Savour a glass of either paired perfectly with Executive Chef Dean Yasharian's Côte du Boeuf roast for two. In February, Vareille invites guests to take a taste of Amarone della Valpolicella Gran Reserva 2006 Mattieli as he opens 36 hand-painted jeroboams during the month to accompany Chef Yasharian's smoked wild boar saddle on the bone, with the opportunity for guests to take home an empty bottle! During March, Bar Boulud turns its attention to seafood in season with whole-grilled British lobster. To complement, Vareille will be opening a Jeroboam of Silex by Louis-Benjamain Dagueneau 2009 and 2010, the most awarded Sauvignon Blanc in the world to pair with the king of shellfish, as well as a Jeroboam of Christian Moreau Les Clos Chablis Grand Cru 2007. Priced at £18 for a 125ml glass, serving great wine by the glass at the table from rare, large-format bottles within the buzzing restaurant is a Bar Boulud trademark. Follow @barbouludlondon on Twitter and Bar Boulud, London on Facebook for dates and details.
Friday Evenings at the High Table with David Vareille
Join Head Sommelier David Vareille as he continues his monthly wine series to wind down the week. Take a seat at the High Table to enjoy themed wine selections from around the world, paired with seasonal small plates. Taking place between 6 and 7.30pm and priced at £50 per person, the evenings' are inspired by the following themes:
22 February: Syrah vs Shiraz
One grape, two names and continents. With more than a century of viniculture now under its belt and superb Shiraz coming out of the region, Australia has proved it can compete on the international wine scene. But, how do these still newer vines measure against the ancient terroir of the Rhone valley, and its famous Syrahs? Find out as we host a taste and debate!
15 March: A Sommelier's Birthday Pours
In celebration of Vareille's birthday month, he will share some of his favourite wine discoveries from around the world during 2012
19 April: One Dish, Six Wines
For winemakers, wines are an expression of the place of production and made to pair with foods of their region. But with globalisation allowing indigenous varietals and small-scale producers to achieve international distribution and recognition, wines must now be more versatile and pair with many cuisines. We take up the challenge to pair six global wines with one enticing dish.
Dinner with Dean
Bar Boulud's renowned Executive Chef Dean Yasharian invites you to join him for Dinner with Dean this 2013. Offering the opportunity for foodies to travel off Bar Boulud's menu, the informal evenings will centre around a six-course menu designed especially by the Chef. Guests at Dean's table will taste some of the Chef's personal favourite dishes from both his time in London and the US, as well as ingredients close to his heart and the freshest produce of the season. Dinner with Dean will take place once a month from 7.30pm in one of the restaurant's two Private Dining Rooms and is priced at £65 per person, with the option of wine pairing for an additional cost.
Saturday 2 February: Truffle Dinner (£250 per person for 8 courses, inclusive of wine pairings)
Saturday 2 March: Best of British Seafood
Saturday 20 April: Spring in Season
Bar Boulud, London is open from 12pm to 1am Monday to Saturday and from 12pm to 12am Sunday for Lunch and Dinner. Reservations for Bar Boulud can be made at danielnyc.com/barbouludLondon.html. For further information, visit mandarinoriental.com/london/dining/.