Stock shortages continue to fuel used car values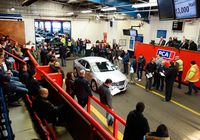 With the SMMT reporting continued growth in new car sales – as an 11.5% year on year increase is recorded for January 2013 - leading vehicle auction company, British Car Auctions (BCA) reports that used car values continue to climb as stock remains in short supply.
BCA's latest Pulse report shows that average used cars values were up by 18.1% (£1,097) to £7,137 in January this year compared to same month in 2012. It is the highest average value in January since Pulse began reporting in 2005 and the second highest monthly value ever recorded, behind the December 2012 figure of £7,361
Both the fleet/lease and dealer part-exchange sectors saw values increase month-on-month, establishing record average values in the process.
BCA's UK Operations Director Simon Henstock commented "Although the headline value declined compared to December largely due to a shift in the mix of cars sold, January essentially delivered more of the same – a shortage of stock allied to decent levels of demand. The shortage stems from the fall in new car sales from 2008 onwards, which means there are simply fewer used cars as a result."
He added "With stock remaining thin on the ground, buyer demand is focused on the best quality vehicles and this is driving values up. In particular, the rise in average prices at the 'value-for-money' end of the market continues unabated and this must be a reflection of the current economic conditions. As household budgets remain squeezed, the increased demand from motorists for affordable transport is driving values upwards."