Kate Nash to launch third album 'Girl Talk' at St Martins Lane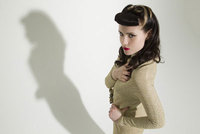 The celebrity-packed event will usher in the multi-instrumentalist singer/songwriter's highly anticipated new work.
The musical powerhouse was celebrated in 2008 with the highest accolade in British music, taking home a Brit Award, famed for her pop song, 'Foundations', which highlighted Kate's unparalleled knack for songwriting and genius lyricism. Of the new album, which was written on the bass guitar as it has more of a raw punk feel, Kate says, "It's definitely a pop record, but has a new sound and feel to it. I played bass in a punk band called The Receeders for a couple of years and I love how powerful playing bass and using my voice like that made me feel. 'Girl Talk' is full of colour, pop harmonies and melodies, and I feel like my voice has matured and that I can do more with it. Music is my escapism and vice, and my life is in every song. I always write from an honest place and can't wait to share the next chapter."

The accompanying videos for 'Girl Talk' echo the strength of females found in Tarantino films, namely the video for 'Death Proof', which was inspired by the same named Tarantino film. "I greatly admire how Tarantino empowers women and would love to be in a future Tarantino film", says Kate, who recently starred in the film 'Greetings from Tim Buckley', and will be in the upcoming British female comedy, 'Powder Room' with Sheridan Smith, Jaime Winstone and Oona Chaplin.
A regular at New York Fashion Week and London Fashion Week, the British style icon, who staunchly supports British designers and their craft, has become a global voice for women and girls. A thought-leader and global influencer, Kate is renowned in the music world for being an intellectual, shifting the perceptions of equality on a global scale. She is fiercely close to her fans and is known for being deeply committed to people and community. Kate directs a programme for school-aged girls called, 'Kate Nash Rock 'N' Roll for Girls After School Music Club', with a mission to develop esteem and create a new generation of female musicians, writers, producers and technicians. "It was a real eye-opener that the balance of power in music is so skewed. I want to see more women being creative, working across all facets of the industry. So I am doing something about it from the ground up."
Kate was recently appointed as the Global Ambassador of the 'Because I am a Girl' initiative by Plan USA. Kate will travel to developing countries to improve the lives of millions of girls around the world. "I'm so happy to be a part of this campaign; it feels like the perfect charity for me to join forces with. I love empowering women and girls and being able to do this in developing countries in parts of the world I have never been to, is so exciting. I can't wait to help give girls the opportunities they deserve and see them realise their full potential."
"My album, 'Girl Talk' is out on the 4th of March and I couldn't be more excited to share it with the world. It was recorded and mastered in Los Angeles and is unquestionably my best work to date."
'Girl Talk' can be pre-ordered on iTunes.