Bonnie Tyler to represent UK at Eurovision Song Contest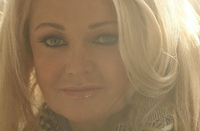 The United Kingdom has long been holding out for a Eurovision hero, and now the wait could be over: today the BBC confirmed that international musical legend Bonnie Tyler will represent the UK in the 2013 Eurovision Song Contest.
With a career spanning four decades and a voice instantly identifiable the world over, Bonnie is the international first lady of rock. She will be flying the flag for the United Kingdom at the 58th Eurovision Song Contest in Malmö, Sweden, in front of an estimated global audience of over 120 million viewers.
Bonnie says: "I am truly honoured and delighted to be able to represent my country at Eurovision, and especially with such a fabulous song. I promise to give this everything that I've got for the UK!"
She will be performing the song Believe In Me, which was written by Desmond Child, Lauren Christy and Christopher Braide, and produced by David Huff. It was recorded at Blackbird Studios, Nashville, Tennessee and mixed at Eargasm Studios, Santa Monica California by Justin Niebank.
Katie Taylor, BBC Controller, Entertainment and Events says: "Bonnie Tyler is truly a global superstar with a fantastic voice and we are delighted she will be flying the flag for the UK in Malmö"
Lewis Carnie, BBC Head of Special Projects, says: "Bonnie is an artist with an international reputation and I am delighted that she has chosen to represent the UK in this year's contest. It is a great song and a truly wonderful performance that I am sure will do the nation proud"
The Eurovision Song Competition will take place on Saturday 18th May in Malmö, Sweden, broadcast live on BBC One & BBC One HD, with commentary by Graham Norton and live on BBC Radio 2 with commentary from Ken Bruce. The semi-finals will be held on Tuesday 14th & Thursday 16th May, broadcast on BBC Three and hosted by Scott Mills and, making her Eurovision debut, Scissor Sisters star Ana Matronic.