Wildlife watching bonanza on cruise through the Northwest Passage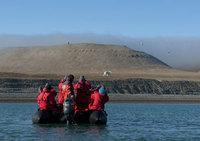 Specialist small ship cruise company, One Ocean Expeditions, invites wildlife lovers, keen photographers and those with a taste for adventure to follow in the wake of the great Arctic explorers on its Northwest Passage expedition on board the impressive, ice-strengthened vessel, the Akademik Ioffe.
Pods of orca, beluga and the occasional bowhead whale, rafts of ringed, harp and bearded seals, herds of walrus, plus Arctic foxes and hares, musk ox and polar bears all inhabit this Canadian High Arctic region. Plus, thousands of fulmars, kittiwakes and thick-billed murres, as well as other birdlife such as black guillemots, ivory gulls, king eiders, gyrfalcons, snowy owls and snow bunting await amateur ornithologists.
Travelling between Kangerlussuaq in Greenland and Cambridge Bay in Canada, the 11-night voyage departing on 14 August along one of the world's most legendary shipping routes, is set to reveal one magnificent wildlife spectacle after another.
Linking the Atlantic and Pacific Oceans, the Northwest Passage voyage also boasts majestic, steep-sided fjords and massive tabular icebergs crying out to be photographed, as well as fascinating remote Inuit communities and traditional Greenlandic kayakers.
Passengers on board the Akademik Ioffe will have the opportunity to get close to both wildlife and communities by participating in hiking, kayaking, photographic and birding expeditions in the company of expert guides.
Zodiac inflatable boats with the quietest of motors travel upwind of wildlife, making it possible to get safely within metres of magnificent polar bears as they stroll along the shoreline, or close to chicks in various stages of fledging.
While the journey follows in the footsteps of courageous polar explorers such as Sir John Franklin and Roald Amundsen, the first to successfully traverse the Northwest Passage, the comfort factor has been greatly improved since their journeys.
Facilities on board the ship include a bar and lounge, a library and media room, plus a theatre-style presentation room, gift-shop and wellness centre with massage, sauna and hot tub, as well as a dining room serving sumptuous meals throughout the voyage.
Prices start from US $6990 per person based on triple share and from US $9,590 for a private twin cabin. Suites and superior cabins are also available and range from US $11,290 to US $12,090. Return transfers between Kangerlussuaq and Cambridge Bay airports and the ship, all meals and accommodation and zodiac excursions are included.
A special deal means that one pre-cruise hotel night in Ottawa, airport transfers and the charter flight from Ottawa to Kangerlussuaq for embarkation – worth approximately US$1200pp, is also included in this package. The charter flight from Cambridge Bay to Edmonton on disembarkation costs US$925pp.
Kayaking excursions are available at a cost of US $695 per person.
For further information, visit oneoceanexpeditions.com.