Anglo Pacific takes one-man Macbeth from Glasgow to Broadway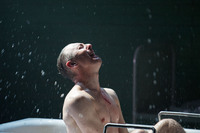 A container-load of Shakespearian paraphernalia touched down in New York this month having made the long journey from the National Theatre of Scotland in Glasgow. Shipped by specialist theatrical movers Anglo Pacific, the stage is now set for a 73-date run at Broadway's Ethel Barrymore Theatre from 7 April.
Technical Director for the National Theatre of Scotland, Niall Black, says, "This is a big deal for us as not only is it a radical interpretation of the tragedy, one where the main protagonist, Alan Cumming, is the only protagonist playing Macbeth, Lady Macbeth, Banquo, Macduff and all the rest, but it is also, we believe, the first time that the 'Scottish play' will have been performed by a Scottish actor and a Scottish company on Broadway. Getting the set there on time was crucial, there can be no slippage, but thankfully Anglo Pacific has always delivered for us."
Niall continues, "This is the second time that Anglo Pacific has shipped the Macbeth set to New York, it also went across last June to appear at the Lincoln Centre Festival, and both times things went very smoothly. The National Theatre of Scotland has used Anglo Pacific for worldwide set shipping since we started producing work in 2006 and they've helped us perform in the Far East, Australia and North America. Together we programme realistic schedules, especially when moving several sets of the same show in different countries via different modes of transport and multiple ATA Carnets. I've been recommending Anglo Pacific to other theatre companies for 14 years."
Andrew Nelson, Branch Manager for Anglo Pacific in Glasgow, was delighted to be trusted once more with another show from the National Theatre of Scotland. "Shipments such as these create a series of challenges regarding time sensitivity and temporary importation under the ATA Carnet, which permits import and export to many countries without formally clearing national border frontiers and the payment of normally applicable duties and taxes. Timely arrival of the set is vital so subsequent rehearsals and performances run to schedule. Close client relationships ensure we meet those expectations."
Premiered at Glasgow's Tramway Theatre in June 2012, this is a bold reimagining of Shakespeare's chilling tale of desire, ambition and the supernatural. Starring Tony and Olivier Award-winner Alan Cumming, the production is set in a psychiatric unit and centres on a feverish patient who is reliving the story of Macbeth. CCTV watches the patient's every move and the white clinical walls of the unit come to life in a visually stunning multimedia theatrical experience. This will mark the Company's eighth run in New York and the National Theatre of Scotland's second on Broadway.
Cumming, born in Scotland but now a naturalized US citizen living in New York, said, "Performing Macbeth last year was the most challenging and fulfilling experience of my career by far, and so I am both honoured and daunted to do it again in my adopted hometown of New York City."
Visit nationaltheatrescotland.com or macbethonbroadway.com for more information.

For Scottish shipping enquiries, visit anglopacific.co.uk.
About Anglo Pacific - Anglo Pacific has honed the specialised art of theatrical and exhibition forwarding to perfection. Whether you're transporting scenery and props around Russia for a national opera company or the paraphernalia surrounding a troupe of acrobats, actors and dancers on a tour of third world nations, Anglo Pacific has the science of shipping all worked out. However complex, whatever the pressures are in terms of timescales and geography, send us your equipment list and itinerary and allow our friendly experts to guide you.
About National Theatre Scotland - Since its launch in February 2006, the National Theatre of Scotland has been involved in creating 189 productions in 162 different locations. With no building of its own, the Company takes theatre all over Scotland and beyond, working with existing and new venues and companies to create and tour theatre of the highest quality. It takes place in the great buildings of Scotland, but also in site-specific locations, airports and tower blocks, community halls and drill halls, ferries and forests. The Company has performed to over 830,000 people across four continents.