Brazil's Sibauma set to rival neighbouring Pipa for upmarket tourism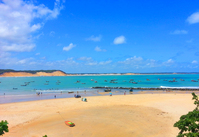 Ever since it was discovered by surfers back in the 1970s, Brazil's Pipa has been a tourism success story. Trendy eateries, boutique hotels and world-class beaches with dolphins at play attract the wealthy élite, but local agent uv10.com says neighbouring Sibauma is now snapping at Pipa's heels.
Samantha Gores, Sales Manager for uv10.com, says, "Despite its diminutive size - the population is less than 5,000 - Pipa welcomes around a million tourists each year keen to surf, see and be seen. However Sibauma, just five kilometres south of Pipa village, is aiming to create an even more upmarket tourist offering to attract the well-heeled. Given Sibauma's beautiful beaches, dunes, reefs, cliffs and natural swimming pools, all set in preserved Atlantic forest – I have no doubt that the area has a glamorous future ahead."
Enjoying one of the best beaches in South America, as once recommend by Condé Nast Traveller, Sibauma is the setting for Sibauma Residences, a selection of duplex townhouses in a fully managed condominium hotel. Just a few metres from the sand with uninterrupted ocean views, the location is unparalleled, but so is the investment potential.
Samantha continues, "In a time of belt-tightening, Sibauma Residences is a breath of fresh air as not only does it carry never-before-seen payment terms but it also offers a professional rental management setup with predicted 7% annual returns. Choose your payment terms, with down-payments from as little as 2%, that's less than £2,000 on an average unit, followed by up to 49 monthly payments with guaranteed delivery after 36 months - at this point the rental pool kicks in and the income can be offset against the final instalments. Add capital appreciation in the region of 10% per annum and it's a viable, safe investment."
The project features just 26 duplex townhouses, complete with adult and children's swimming pools, Jacuzzi, barbecue area, guest breakfast area and on-site restaurant, all set in lush, manicured gardens just 50 metres from the beach – guaranteeing a cooling ocean breeze at all times. The homes themselves each have two bedrooms and two bathrooms, all with sea views, and are priced from a below-market-value £93,000.
Samantha finishes, "Sibauma is causing a loud buzz right now and is already known as the 'Pipa of the future'. Investing in a condo right by the water offers high levels of capital appreciation and good rental income, all hands-free thanks to a professional team who also happen to manage the largest portfolio of rental properties in the area. It's a rare and time-sensitive chance."
For more information, visit uv10.com.