Coldplay tops Radio 2 listeners' vote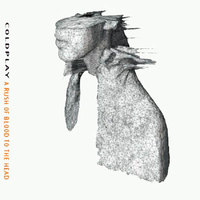 A Rush Of Blood To The Head by Coldplay has been voted BBC Radio 2 listeners' favourite album.
The album was revealed as number one on the 1 April by Jo Whiley in a special show for Easter Monday. The countdown - as voted for by the listeners - kicked off at midnight with presenter Janice Long. And throughout the day, shows across the network including Alex Lester, Zoe Ball and Claudia Winkleman, revealed more of the albums that had made it into the Top 100.
Radio 2's Top 100 highlighted some of the station's most played albums, covering six decades in the history of long playing records.
A Rush Of Blood To The Head, Coldplay's second album, stepped away from the innocence of the band's debut album Parachutes, and featured instant hits such as Clocks, Politik and In My Place. The album was released to critical acclaim and won multiple awards; it ranks as one of the biggest-selling albums of the 21st century in the UK.
Jeff Smith, Head of Music for BBC Radio 2 and BBC Radio 6 Music says: "With albums ranging from Sinatra in the Fifties to Emeli Sande in the last year, the range of eras and genres exhibited by the chart is typical of the breadth of Radio 2 and its distinctive music policy. Musicians such as Coldplay and Dido have struck a chord with listeners and are in good company in the Top 10 alongside legendary bands like The Rolling Stones and The Beatles, whose appeal remains undiminished after all these years."
Throughout the day, programmes also played classic BBC archive clips featuring the stars and producers who created some of the albums that made the Top 10. Steve Wright revealed some extra special 'factoids' about many of the Top 100, which are available to listen to on Audioboo.
The albums that made the Top 10 are:
1 Coldplay - A Rush Of Blood To The Head (2002)
2 Keane - Hopes And Fears (2004)
3 Duran Duran - Rio (1982)
4 Pink Floyd - The Dark Side Of The Moon (1973)
5 Dido - No Angel (1999)
6 The Rolling Stones - Sticky Fingers (1971)
7 The Pet Shop Boys - Actually (1987)
8 The Beatles - Sgt Pepper's Lonely Hearts Club Band (1967)
9 U2 - The Joshua Tree (1987)
10 Queen - A Night At The Opera (1975)
The full list is available at bbc.co.uk/radio2/vote/top-albums/
The countdown programme follows the BBC's recent The Golden Age of the Album season, which saw Radio 2 recreate the legendary Beatle's album Please Please Me with a variety of artists performing the 11 songs from the album in one day.