Tourism Minister announces grand plans for Brazil's Natal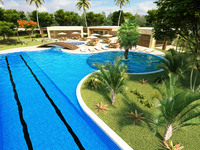 The Secretary of State for Tourism in Rio Grande do Norte, Renato Fernandes, has outlined his plans to upgrade Natal's tourist infrastructure. Already known for its 'sun and sea' – Fernandes wants to add marinas, golf, five and six star hotels and possibly even a theme park to Natal's compelling offer.
The closest part of South America to Europe, under seven hours flying time to Lisbon, Rio Grande do Norte is a privileged state with 400km of coastline, year-round sea temperatures of 26 degrees Celsius and just 400 to 600mm of rainfall a year making it a favourite 'sun and sea' destination. But, spurred on by the upcoming FIFA World Cup 2014, Fernandes hopes to add another dimension to this hotspot.
Speaking in a recent interview, the Minister promised that 98 hectares of the historical centre of Natal would be restored into a pedestrianised open air cultural attraction and a marina would be built to draw the lucrative nautical tourist who spends, on average, 150 dollars a day. Fernandes also said analysis was underway for the creation of a world-class golf course, five and six star international hotels were being courted and the area was being prospected by Orlando-style theme park groups.
Fernandes was also aware of the demand for ecological tourism and highlighted the charity that protects sea turtle populations around the areas of Sibauma, Tibau do Sul and Pipa – host to some of the most famous beaches in Brazil. He said, "Everyone has something to gain from tourism from the poorest to the richest. I don't think there is anything quite like tourism that can benefit the whole society... I think tourism is going to transform this State." He added that the brand new Sao Goncalo do Amarante Airport would be inaugurated in March or April 2014.
Local estate agent uv10.com was particularly interested in Fernandes' words about water sports tourism. He highlighted the small beach town of Sao Miguel do Gostoso as being the "centre in Brazil for windsurfing and kitesurfing" and said that world champions of both sports lived there. He hoped to promote the town on a global scale.
Samantha Gore, Sales Manager for uv10.com, says, "Sao Miguel do Gostoso has the perfect formula for water sports with year-round wind and warm water temperatures, whilst being safe and quiet for families. The town is thriving with bags of character and boasts pretty bougainvillea-draped multicoloured houses, a white sand beach dotted with fishing boats and coconut palms plus all facilities from a medical centre to a day Spa, boutique hotels to fresh seafood restaurants. The property market shows a strong, healthy rate of growth with local and international demand. Little wonder Sao Miguel do Gostoso is regarded as one of the world's best places to live."
uv10.com is promoting Monte Alegre, the first beachfront condominium in the area with a wide range of plots for sale ranging from 200m² to 816m². Purchasers are free to land bank or build their own home with the developer's guidance on how to maximise the ever-present breeze and the ocean views. Set to be a huge success, Monte Alegre is just a stroll along the beach from Sao Miguel do Gostoso but benefits from the peace and quiet that visitors crave.
Divided into three sections, 38 beachfront plots, 16 leisure area plots and 46 sports area plots, Monte Alegre also has extensive facilities to give a very exclusive feel. Adult and children's pools, a wet relaxation area and 25m lap pool will be joined by a restaurant and bar, gymnasium, children's playroom and playground, barbecue, hammocks and chill-out area. Facilities will be complete for handover in June 2014, around the time of FIFA World Cup kick-off in host city Natal, an hour and half's drive south.
Samantha finishes, "Land prices are currently increasing by an incredible 30% per annum in this location which makes Monte Alegre ideal for those simply looking for a healthy return on investment. However, it is also suited to those looking for a relatively cheap plot of land in a unique, paradisiacal sunshine location to either hold on to for building at a later date or as somewhere to build now and then rent out. There is a severe lack of available beds in this holiday destination favoured by many Brazilians."
Plot prices are extremely competitive, from 210 Brazilian Reals per square metre, with 60,000 Brazilian Reals (approx 19,680 GBP) the most affordable available plot. Payment can be spread over eight installments between now and delivery and plots can be resold at any time. Total costs, plot plus build, for a 350m² turnkey house on a huge 800m² plot are estimated to be 750,000 Brazilian Reals (245,000 GBP) - less than many apartments and villas sold on nearby developments.
For more information, visit uv10.com.