Ticket details announced for Radio 1's Big Weekend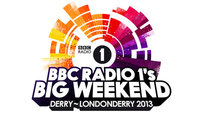 Tickets for BBC Radio 1's Big Weekend Derry~Londonderry are to be made available at 9am on Tuesday 16 April.
For the first time Radio 1's Big Weekend will be extended to three days, taking place over the Spring Bank Holiday weekend. On Friday 24 May, the Main Stage will focus on dance music, with 1Xtra taking over the second stage; while Saturday 25 May and Sunday 26 May will feature a Main Stage and In New Music We Trust Stage.
Those hoping to obtain tickets will not need to register in advance, however demand for tickets is expected to massively exceed supply.
Tickets will be given away in pairs and it is recommended those hoping to book go online to BBC Radio 1's website.
Once booking opens, this will link to a secure site hosted by See Tickets, who are handling the ticketing process on the BBC's behalf.
There will also be a dedicated phone number for those without internet access – 0844 209 7353 (Call charges will apply. Please note calls to this line before 16 April will not be answered personally but will still be charged). Online and phone lines are expected to be exceptionally busy and not everyone hoping to book is likely to be able to get through.
There is no charge for the event itself, but a handling fee of £2.50 per ticket will be applied to cover ticket handling, postage and other associated costs. Under 16s hoping to attend the event will need to be accompanied by a responsible adult who is at least 18 years old.
Radio 1's Big Weekend Derry~Londonderry 2013 takes place in the heart of the city at Ebrington Square and the Pavilion, with 12,500 tickets being given away for each day - 37,500 in total.
The event is being staged with the co-operation and support of Derry City Council. As with previous Big Weekends, an element of preference will be given to local residents: 45% of the available tickets will be reserved for those living within the Derry City Council area; 45% will be reserved for those resident in the rest of Northern Ireland; with the remaining 10% for other audiences across the UK and those in the Republic of Ireland.
Ben Cooper, Controller BBC Radio 1 and BBC Radio1Xtra, said: "We're really looking forward to bringing our DJs and the biggest artists to a city that is famous for its love of live music. This will be the first time the Big Weekend has been held over three days, so we want as many people involved as possible – at the gigs, listening on Radio 1, watching on BBC Three, on their mobile, online, everywhere!"
The full line-up will be announced in early May, but local boys Two Door Cinema Club and chart-topping Olly Murs are already confirmed to play.
Radio 1's Big Weekend is the UK's biggest free ticketed music event and coincides with Derry~Londonderry's year as UK City of Culture 2013. This is the second time the Big Weekend has been held in the city, returning after a successful event in 2004.
Further information about accessing tickets for Radio 1's Big Weekend 2013 can be found on the Radio 1 website.
BBC Radio 1's Big Weekend will be broadcast live on Radio 1, BBC Radio 1Xtra and streamed online and on mobile. It will also be broadcast on BBC Three with highlights from acts across the weekend.
In the lead up to the main event, Radio 1 and BBC Learning will also embark on a special week of local engagement and outreach activity in the area - opening the doors to Radio 1's Academy from Saturday 11 – Friday 17 May 2013.
During the week young people in Derry will be invited to attend the academy and take part in a series of workshops and masterclasses covering a range of topics including music, radio, journalism and business.
There will be inspirational sessions with people who have made it to the top of their profession, as well as practical advice and skills on offer to help young people take the next steps in their careers.
Details about how to sign up for sessions at the Radio 1's Academy are due to be announced on Friday 26 April with the full line-up and session plan announced on 3 May.