"Hello Beautiful" natural mineral foundation to colour the nation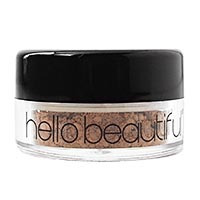 Natural and organic cosmetics brand Anita Grant has launched a brand new mineral foundation range – Hello Beautiful. The range aims to offer one of the most affordable and comprehensive pallets available for darker skin tones.
Hello Beautiful comes in 29 colours, from 'Chocolate Velvet Cupcake' to 'Creamy Vanilla' and features an extensive choice of shades for the deeper end of the colour spectrum.
Anita Grant, Founder and Director of the eponymous brand, explains: "My customers asked if I would consider creating natural mineral foundation colours for darker skin complexions. The mainstream cosmetic companies tend not to offer deeper, darker colours – except the expensive brands. I wanted to create an affordable range that really works for the entire spectrum of skin tones. The name of the brand is synonymous with how we always address our Facebook and Twitter followers."
Hello Beautiful mineral foundation is available in delicious sounding shades including 'Shortbread', 'Cinnamon Toast', 'Vanilla Sugar', 'Spiced Pumpkin', 'Brown Sugar Truffle' 'Warm Honey Blossom', 'Honey Butter Popcorn', 'Mocha Latte' and 'Fondant au Chocolat'.
Anita Grant is planning to launch additional shades of foundation focusing on darker skin tones, as well as a number of mineral eye shadows, and lip glosses later in the year.
Hello Beautiful is available to buy now at anitagrant.com.
Available in:
Regular (10g) - £12.95
Sample (1g) - £1.95
Anita Grant has been mixing-up natural and organic cosmetics for her eponymous brand since its launch in 2005. When Anita suffered a harsh reaction from using a so-called 'safe' synthetic hair lotion, she set out on a mission to create her own line of 100% safe products for those with naturally curly hair and Afro hair as well as sensitive skin types, crafted using only the most natural ingredients. By avoiding harsh chemicals and synthetics, Anita Grant brings cosmetic production back to (the nicest) basics.