Take your tastes buds on a trip with HostelsClub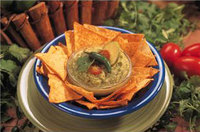 From Vegemite to Turkish Delight, countries are often synonymous with their local gastronomy and with that in mind HostelsClub.com have compiled their top hostel suggestions for delicious destinations. With prices from just £9 per night, treat your taste buds to a trip around the world.
Mouth-watering Mexico from £9 per night
From tacos and fajitas to chocolate - Mexican food is diverse, delicious and even recognised by UNESCO! The organisation declared traditional Mexican cuisine as part of the intangible cultural heritage of humanity and gave special mention to the Michoacan state for its culinary practices. HostelsClub recommends staying at Tequila Sunset, from £9 per night in Michoacan's capital city Morelia - the perfect place from which to explore the region and sample its varied dishes. Be sure to try local favourites including carnitas and enchiladas.
Salivate in Spain from £17 per night
Spain's tasty tapas, infectious atmosphere and year-round sunshine, makes the country and its famous city Barcelona a favourite with foodies. HostelsClub recommends you stay at the Alternative Creative Youth Home, located in the heart of Barcelona, from £17 per night. A short walk from the popular La Rambla and Catalonia Square, guests are spoilt for choice for places to eat, surrounded by endless tapas bars, street food and restaurants. You won't find a better Patatas Bravas or Paella - guaranteed!
Chopsticks at the ready in Japan from £33 per night
Popular across the world, sushi is possibly Japan's most well-known food export. To get your sushi fill, HostelsClub recommends staying at Tokyo Hostel, from £33 for a private room, per night. Found in the culturally rich area of Ueno, holidaymakers can walk between Buddhist temples stopping at sushi bars and restaurants to sample the appetising local cuisine. Don't miss the Ameyoko markets, a thriving flea market that has been there since World War 2 and sells everything from local street food to high quality electronics!
Gorge on Greek gastronomy from £13 per night
Greek salads, tzatziki and souvlaki are all regularly seen on British menus. For a taste of Greece, HostelsClub recommends staying at Windmill Apartments, Mykonos from £13 per night. Situated 200 metres from the beach and 300 metres from the town centre, guests can meander through the island's white and blue streets stopping at restaurants to sample fresh seafood, lamb and halloumi dishes. Treat yourself to bite-sized dolmades and the ultimate guilty pleasure, gyros - considered junk food by locals!
Visit hostelsclub.com for more information or to book any of the above hostels.