Exploring Denmark on a driving tour of Aarhus, Silkeborg and Vejle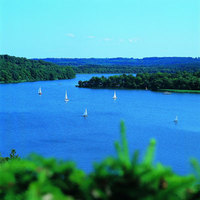 Less than two hours flying time with daily departures from across the UK to Billund and Aarhus airport, step into Denmark's unspoiled landscape of east Jutland. This clean, green region lends itself perfectly to a fly/drive holiday where quiet roads and cycle paths link up to the vibrant towns of Aarhus, Silkeborg and Vejle and are complemented by tranquil lakes, sandy beaches and a unique highland area.
Highlights this summer include the return of the biennial Sculpture by the Sea exhibition to Aarhus and a host of free concerts at the Riverboat Jazz Festival in Silkeborg in June. Or in the year that celebrates 1000 years since the Viking invasion of England, and the start of our shared heritage, explore the region's Viking past with a visit to the ancient rune stones and UNESCO World Heritage site at Jelling and explore nearby Vejle, which was recently voted 'Denmark's cosiest shopping town'.
Aarhus
The vibrant university city of Aarhus is gearing up to be the European City of Culture in 2017. To celebrate this event the harbour district is currently undergoing a major redevelopment programme to create a New Maritime Urban Area; transforming the former industrial area into a new urban space. The new site includes a new canal district with sustainable buildings and recreational areas. The harbour will also feature a large waterfront space for concerts and events, while a Mediaspace centre will house a main Library and civic centre.
Aarhus is renowned as a centre of art and culture, with plenty of events and happenings over the course of the year to add spice to any city break. A particular highlight of every summer season is the Aarhus Festival, which takes place throughout the city for 10 days from 30th August 2013. Showcasing over 1,000 arts and entertainment events in more than 100 different venues, it is one of the largest cultural events in Scandinavia and includes concerts, plays, exhibitions and children's activities.
The last two days of the festival (6th- 8th September) are given over to food with the annual Aarhus Food Festival. Prominent Danish and international chefs, producers and food enthusiasts gather together to present their high quality, natural foods from across Scandinavia and provide an opportunity for visitors to have a great taste of the new Nordic kitchen with a series of cookery masterclasses in the 'food cinema' throughout the weekend.
Chief among its many other summer attractions is the popular biennial Sculpture by the Sea Aarhus exhibition, Denmark's largest art event. Featuring a series of contemporary pieces of work placed along the scenic coastline, on the beach and in the forests of Aarhus, the exhibition offers a unique opportunity to enjoy the compelling diversity of artistic expression which exists within contemporary sculptural art, fused with the beautiful nature. The third Sculpture by the Sea exhibition in Aarhus is a free event and accessible at all times throughout the whole of June 2013.
Silkeborg
Located in mid-eastern Jutland and coined Denmark's 'Lake District' with pristine woodland, tranquil lakes, long stretches of river and stunning highland areas, the Silkeborg area lends itself perfectly to a self-drive holiday with stunning natural scenery and attractions to match.
At its heart and straddling the banks of Denmark's longest river Gudenåen, Silkeborg city offers a wonderful introduction to this picturesque region combining outdoor activities such as canoeing, cycling, angling and swimming with a fascinating cultural past, thriving artistic community and vibrant restaurant scene. Music festivals and concerts provide the soundtrack to life in Silkeborg throughout the year. The annual Riverboat Jazz Festival (26-30th June 2013) is one of the oldest jazz festivals with many free concerts held at over 15 venues across the city, in the squares and the Performers House as well as on boats in the busy harbour.
High on the list of any visit to Silkeborg must be an ascent of nearby Himmelbjerget, one of Denmark's highest points. The hill standing 147 metres above sea level and overlooking Lake Julsø, provides a breathtaking panorama of the area, especially from the 19th century Himmelbjerg Tower. Visitors preferring a less active introduction to the area can take a leisurely cruise aboard Hjejlen, the world's oldest coal burning paddle steamer or admire the magnificent views on a 5km journey onboard the veteran train Veteran Railway Bryrup - Vrads.
Make sure to delve into Denmark's colourful artistic past with a visit to some of Silkeborg's numerous galleries and museums. The Art Centre Silkeborg Bad, is a beautiful old spa building housing a fascinating collection of modern Danish and international artists in its bright and airy halls overlooking the lakes. At Museum Jorn a vast collection of paintings, sculptures, graphic works and tapestries by the internationally renowned artist, Asger Jorn is displayed. The Danish artist, who lived in Silkeborg, bequeathed his work to the town, with weird and wonderful colourful figures alongside idyllic landscapes and abstract paintings. Round off a visit to the town with a visit to the Silkeborg Museum where the mysterious remains of the world famous Tollund Man can be seen. Found in a bog 10 kilometres west of Silkeborg in 1950, the museum tells the story of the 2,400 year old body of a perfectly preserved Iron age man who was discovered with a rope around his neck and the forensic investigations that have taken place since to try and solve the mystery of his death.
Vejle
Close to Billund airport, Vejle is one of East Jutland's most enduring destinations where visitors will find a range of attractions spanning shopping, golf, spa hotels, beaches and even a protected wilderness to explore.
Voted 'Denmark's cosiest shopping town', it features a 900 metre long pedestrianised central street, the Strøget, where big brand names rub shoulders with small independent stores in its charming side streets and heritage courtyards.
As a showcase for modern architecture by some of the country's leading architects, Vejle boasts an impressive collection of new buildings, with a striking new multi-towered design set to emerge on the harbourfront in 2016, created by the famous Danish-Icelandic architect, Olafur Eliasson. At the Vejle Art Museum, a restored heritage museum, a contemporary foyer has been designed by Danish architect Kim Utzon. Highlights of the collection include 50 Rembrandt etchings, as well as works by Robert Jacobsen and Henry Heerup in the impressive collection of Danish artworks from the early 20th century to the present day.
Beyond the town, there are plenty of other recreational opportunities to be found. Favourite pastimes include canoeing and sailing along the waterfront. For cyclists and hikers the Vejle Ådal river valley provides a scenic landscape of great natural beauty with routes marked out through the undulating countryside, meandering coastline, moorland and meadows. The area also has some of Denmark's most picturesque golf courses, and indulgent spa treatments at some of Vejle's many high-end wellness hotels, such as the palatial Comwell Kellers Park & Spa, the forest setting of the Munkebjerg Hotel or the historic manor house of Vejlefjord Kur & Spa to name but a few.
Completing a visit to the region and only 15 minutes from Vejle, take in the UNESCO World Heritage site of Royal Jelling, where in 965AD the Viking King Harald Bluetooth embraced Christianity and recorded the moment on the world famous rune stones of the Jelling Monument often considered the most important of such monuments from the Viking Age in Europe.
Getting there
Under two hours flying time, Denmark has a good selection of flights from the UK to both Billund and Aarhus airports with Ryanair. Flights from Stansted to Billund run twice daily, while Stansted to Aarhus flights run once daily.
From Billund Airport take a bus to either Aarhus in just 1h 30 min, Vejle within 30min or Silkeborg in 1h 10min. Or hire a car with Hertz from £67 per day including unlimited mileage.
For more general information on Denmark, go to visitdenmark.co.uk.