Simon says... start your Aussie adventure in the Red Centre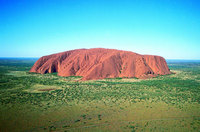 Fans of intrepid TV adventurer, Simon Reeve, will be glued to their sets at 9pm on Sunday 19 May for the first in his new series on BBC2, Australia. Visitors to this epic continent should follow Simon's example and start their tour Down Under in the magnificent 'Red Centre'.
Home to some of Australia's most dramatic scenery, including the awe-inspiring Uluru (Ayers Rock), Kings Canyon and Kata Tjuta (The Olgas), the Red Centre of the Northern Territory is the spiritual heart of this amazing, ancient land. Indigenous art and culture entwine with historical natural icons, whilst thrill seekers can indulge in everything from camping under the stars to hot air ballooning, soaking in watering holes to tackling the mighty MacDonnell Ranges.
Australia kick starts with Simon examining the fragile desert ecosystem and the impact of camels on the Outback, joining an Aussie rancher to embark on a high octane camel round-up.
Travellers can follow in his footsteps with Austravel (austravel.com) and enjoy five nights in the Northern Territory's Red Centre from £1,699 per person. The package includes return flights from London Heathrow with Qantas, five nights at the Outback Pioneer Hotel and Lodge, a Sounds of Silence dinner and an Ayers Rock to Kings Canyon tour, based on departures September 2013.