New airport tax could see UK holidays take off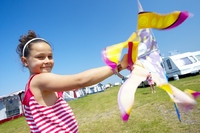 New sky-high rates of Air Passenger Duty (APD) could put UK tourism on an even steeper upward trajectory this year, according to a major UK operator of holiday park.

Park Holidays UK says that the tax has now reached the level where a family could enjoy a stay in a holiday caravan for less than they would pay for APD alone.

The levy adds £13.00 per person to the cost of flying within Europe - yet for £59.00, all six members of a family could enjoy four nights on a Devon park with plenty left over for ice creams.

"The government has effectively made holidays in Britain feel like the hottest deals in the world," said Park Holidays UK director Tony Clish.

"It's little wonder that we are receiving a record number of bookings this year from new customers, many of whom are likely to be reacting against the new airport duty.

"Instead, they will be discovering a much more hassle-free type of holiday, and spending just a fraction of the cost of going overseas," he added.

The crippling cost of APD, he pointed out, is magnified even more for those on long-haul holidays - and would add a staggering £400 in tax for a family of six flying to Egypt.

"Money spent on holidays has already been subject to tax, so it's hardly surprising if people feel that their family rather than the Exchequer should benefit from what's left!" said Mr Clish.

Details of holidays at the group's 23 coastal parks can be viewed at ParkHolidays.com.