Brazil estate agent takes 'Best Small Agent' Award for third year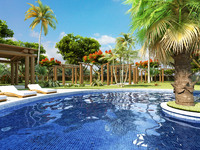 "A laudable approach to selling property, good customer service", just some of the praise coming from the judges responsible for awarding uv10.com 'Best Small Agent' in this year's Association of International Property Professionals (AIPP) Awards – the third time of winning this award in four years.
Samantha Gore, Sales Manager for uv10.com, comments, "This year, and every year, there was only one award on offer in each of the ten categories. There are no prizes for second place. This makes a prize tough to win but the credibility it carries is enormous. We take great pride and comfort in the fact that our real estate agency has been considered a worthy winner in three out of the last four years – our hard work and constant endeavour to excel in every aspect of our business has paid off."
Now in their fifth year, the annual independent AIPP Awards focus on customer service and reward excellence and professionalism whilst setting new benchmarks for the international property market. Judges place themselves in the position of the international property buyer, asking, "What do I want to see in a company to reassure me that they will deliver?" uv10.com was credited for its extensive due diligence processes in advance of selling, transparent marketing and successful delivery of its promised service to clients.
The judges' report said, "A good entry from a company that has clearly looked at every angle when deciding which developments to sell... They seem to be well connected and extremely knowledgeable on the market... Obviously understands the way that the strict Brazilian licenses work... Strong in local knowledge... Got the feeling they offered a very warm and personal service... They moved to Brazil to understand and better serve."
The Award comes at an exciting time for Brazil and therefore for uv10. The nation will be hosting the Olympics in 2016 and the FIFA World Cup in 2014. World Cup host city Natal, the location for many of uv10.com's developments, is in the throes of a tourist infrastructure upgrade with the Secretary of State for Tourism in Rio Grande do Norte, Renato Fernandes, hoping to add marinas, golf, five and six star hotels and possibly even a theme park to Natal's compelling offer.
Some 100km north of Natal, uv10.com is promoting Monte Alegre, the first beachfront condominium in Sao Miguel do Gostoso with a wide range of plots for sale ranging from 200m² to 816m². Purchasers are free to land bank or build their own home with the developer's guidance. Set to be a huge success, Monte Alegre is just a stroll along the beach from Sao Miguel do Gostoso but benefits from the peace and quiet that visitors crave.
Divided into three sections, 38 beachfront plots, 16 leisure area plots and 46 sports area plots, Monte Alegre also has extensive facilities to give a very exclusive feel. Adult and children's pools, a wet relaxation area and 25m lap pool will be joined by a restaurant and bar, gymnasium, children's playroom and playground, barbecue, hammocks and chill-out area. Facilities will be complete for handover in June 2014, around the time of FIFA World Cup kick-off.
Plot prices are extremely competitive, from 210 Brazilian Reals per square metre, with 60,000 Brazilian Reals (approx 19,460 GBP) the most affordable available plot. Payment can be spread over eight instalments between now and delivery and plots can be resold at any time. Total costs, plot plus build, for a 350m² turnkey house on a huge 800m² sea view plot are estimated to be 750,000 Brazilian Reals (241,000 GBP) - less than many apartments and villas sold on nearby developments.
For more information, visit uv10.com.