Brazil receives record number of tourists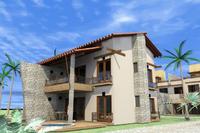 As sports fans gear up for the 2014 FIFA World Cup and Rio 2016 Olympics, a massive impact is already being felt in Brazil's tourist industry. According to figures just released, a record number of tourists were recorded in 2012 with 5,433,354 people travelling to the country - 4.5% up on 2011.
Samantha Gore, Sales Manager for Brazil-based agents uv10.com, is delighted that British travellers are now making a healthy contribution to the statistics, "When we set up almost seven years ago, uv10.com's client base was made up of pioneers, those who loved Brazil for its culture, cuisine, coastline and Carnival. But Brazil has changed, it's gone mainstream. The nation is now an economic powerhouse with a rapidly burgeoning middle class and the world is watching. Little wonder tourism figures are up, including 4% more Brits in 2012 over 2011 - 155,548 visitors versus 149,564. I fully expect 2013 to be another record breaker."
Argentina remains Brazil's number one tourist source followed by the United States and Germany. And, mirroring a trend that can be felt in many markets across the globe, the Chinese are also gaining ground with 18% more visitors to Brazil from China in 2012 over 2011.
Flavio Dino, President of Embratur, Brazil's Tourism Institute, said of the pleasing figures, "Last year's results highlight the fact that Dilma Rousseff's government is working in the right direction in preparation for major international events and therefore gives a good image of our country abroad, thanks to our advertising campaigns, our public relations and other events. The upcoming major world sporting events such as the 2014 FIFA World Cup Brazil and the Rio 2016 Olympic and Paralympic games provides a fantastic opportunity to showcase Brazil's diversity. The latest tourism figures signify that momentum is growing ahead of our upcoming mega events and we are on track to meet our goal of 10 million visitors by 2020."
Of course, with more tourists comes a need for accommodation and the Ministry of Tourism has announced that an astonishing 109 new hotels and resorts are being built within the confines of the 12 FIFA World Cup host cities - Natal being one of them. Already known for its 'sun and sea', the Secretary of State for Tourism for the area has announced plans to add marinas, golf, five and six star hotels and possibly even a theme park to Natal's compelling offer. The future is very exciting.
Just 1.5 hours' drive north of Natal is water sport mecca Sao Miguel do Gostoso, a thriving town with bags of character, bougainvillea-draped multicoloured houses, white sand beaches, warm safe waters, a day Spa, boutique hotels and fresh seafood restaurants. The property market has seen sharp increases over the past two years with strong local and international demand – including a large number of employees contracted to work in the booming wind-farm industry. Owners can almost name their price for long-term lets and hotels are booked far in advance. uv10.com is promoting Shamballa, a gated residential condo community just five minutes walk from town - a welcome solution to this saturation.
Occupying a tranquil spot just a few hundred metres from 30km of pristine white sand beach, Shamballa (a 'place of peace, tranquillity and happiness' in Sanskrit) already has a range of amenities including sports courts, social and barbecue areas, a yoga studio, children's playground and huge pool areas with swim-up bar. With facilities and infrastructure now complete and the plots 90% sold, uv10.com has just been given the go ahead to promote a limited selection of stylish two bedroom off-plan apartments priced from as little as 140,000 Brazilian Reals (approx 42,000 GBP).
Ideal for holidays or lucrative rental income, the 24 apartments will be constructed in stages and fully completed by December 2014. Payment can be spread out over the construction period or made upfront in order to secure a special discount. Full management and maintenance services are offered as part of the condo services and rentals will be handled onsite. Net returns are predicted at 10 to 11% net per annum based on just 120 days rental. If an apartment isn't what you're looking for, turnkey townhouses and generously sized plots for villa construction are up for grabs – although very limited and selling fast.
For more information, visit uv10.com.