Costa del Sol property market set to sizzle this summer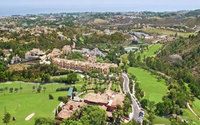 Foreign buyers are now as important to the Spanish property market as they were in 2006, when the real estate boom was in full swing, with waves of "climate" migrantsinvesting in the Spanish property dream once again.

According to data from the Genera Council of Notaries, a total of 38,312 non-resident foreign citizens bought property in Spain last year, representing an increase of 28.4% on the 2011 figures, with Britsowning the biggest stake in the Spanish property market overall, holding 15% of total foreign purchases.

Split by region, it's coastline areas such as the Costa del Sol boasting year round sunshine that are seeing a resurgence in overseas investment, especially by Taylor Wimpey Espana.

Marc Pritchard, Sales and Marketing Manager for leading Spanish house builder Taylor Wimpey Espana comments, "Brits have always loved Spain as an investment country – it's a fantastic location for people seeking a bolt-hole in the sun, but over the last few years wehave seen an increasing number of salesfrom all over Europeon the Costa del Sol in particular. We are also benefitting from an increase in buyers from Belgium, Sweden, Switzerland and Norway ."
"It's no surprise more and moreforeign buyers are snapping up Spanish property as increased flights across Europe have made it cheaper and quicker to get to Spain, helpingboost sales across the Costa del Sol.
The UK already boasts the highest number of routes to Malaga and now adds a further 3 routes bringing the total number of UK to Malaga routes to 22.Routes to Germany have also been strengthened with 7 new routes (Dortmund, Hanover, Nuremburg, Cologne, Munich, Münster, and Hamburg. The rest of the new routes are made up with Madrid-Barajas (2), Melilla (2), Brussels (2) Paris, Warsaw, Knock (Ireland), Oslo and Bergen (Norway) and Copenhagen.

These increases mean that Malaga will be servicing 10.1% more seats on European routes and an 8.9% increase in flights compared with last year's statistics. In addition, routes that were dropped in the winter will also restart, i.e. Turkish Airlines will start to fly direct between Malaga and Istanbul and Delta Airlines will resume flights between the Costa del Sol and JFK airport in New York - great news for the Costa del Sol tourist industry!
Indeed, overseas property investment in Spain is also expected to increase, as a new 'golden visa' law is set to come into effect in the next yearthat will state non-EU nationals that spend more than €500,000 will get the automatic right to residency in the country.
So for those looking for a property in one of Spain's few destinations that has it all: climate, quality services, golf courses, shops, hospitals, international schools, good infrastructure, and the Malaga international airport with connections to many cities across the globe, take a look at Taylor Wimpey Espana's glamorous homes on the Costa del Sol.

La Floresta sur is a new residential development, currently under construction, set near the village of Elviria and its beach, very close to Marbella and Malaga. Set in beautiful surroundings which have been declared a natural biosphere reserve by UNESCO, this development benefits from stunning views towards the oak and pine forest as well as towards the sea. These beautiful properties are available now from €178.000.

Another spectacular property choice in the Costa del Sol is Avalon, a new Taylor Wimpey development situated in one of the best areas of Marbella, the prestigious Los Arqueros golf course and 20 minutes from Estepona. The residential complex of luxury apartments and penthouses costing from €250.000, boasts a natural charm with stunning sea and golf views, wide streets, communal swimming pool and beautiful gardens.
For more information, visit taylorwimpeyspain.com.