Hutong at The Shard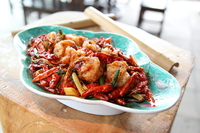 Hutong has opened on Level 33 of The Shard. The 130-cover restaurant was created by David Yeo, founder of Aqua Restaurant Group, and serves contemporary Northern Chinese cuisine. Hutong takes its inspiration from the dishes served in the imperial palaces of what was then Peking. Based on the 'Lu school' cuisine of Shandong Province, renowned for its seafood and vinegars and with influences from Sichuan Province, famous for its fiery spices and peppers, the menu at Hutong artfully captures the subtlety and surprises of Northern Chinese cooking. The restaurant is named after Beijing's ancient hutongs – the now fast-disappearing narrow lanes which criss-crossed the city revealing its old family houses, their grand courtyards and life within.
Hutong's dramatic interior design blends the old and new with panoramic views over the London skyline from Western Europe's tallest building. Based on the much-loved restaurant of the same name in Hong Kong, this site is the first overseas location for Hutong, regarded as one of the world's leading Chinese restaurants.
David Yeo has created the innovative menu alongside Hutong's chefs. The restaurant's signature dishes in London will include 'Red Lantern' - crispy soft-shell crab with Sichuan dried chilli, 'Chilled Spiced Razor Clams', the clams steeped in Chinese rose wine, fresh garlic and chilli and 'Ma La Chilli Prawns', fried with dried chilli, Sichuan pepper and Chinese celery. Two other signature dishes on the menu will be 'Crispy De-boned Lamb Ribs', for which the meat is thrice marinated over a 24 hour period and crisped in the wok, and 'Roasted Peking Duck', hand-prepared and roasted in the restaurant's dedicated duck roasting kitchen which guests will be able to view from the dining room. At lunchtime, an extensive contemporary dim sum menu will be served offering meat, fish and vegetarian options such as 'Prawn and Pork Siu Mai with Crushed Conpoy', 'Shanghai-style Xiao Long Bao' and 'Vegetable and Bamboo Pith Dumplings'. Hutong will also offer an eight-piece dim sum platter (priced at £15) at lunch and dinner including 'Rosé Champagne Shrimp Dumplings', 'Scallop and Pumpkin Dumplings' and 'Crystal Crab Meat Dumplings'.
In addition to a broad offering of traditional wines, spirits and classic cocktails, Hutong's drinks menu will feature Chinese wines and a cocktail selection inspired by ingredients used in traditional Chinese medicine. The 'Dragon Pearl' for example blends ginger and lemongrass cordial, agave nectar and lime juice with dragon fruit and anise basil tip. The spicy 'Comfortably Numb' features vodka, lychee liquor, Sichuan pepper honey, a chilli garnish and a Sichuan pepper rim. Hutong's bar overlooks the spectacular three-storey high atrium of aqua shard, a restaurant also from Aqua Restaurant Group, opening in July on Level 31 of The Shard.
As creative director of Aqua Restaurant Group, David Yeo conceptualized every detail of the dramatic interior of Hutong. Traditional Chinese red lanterns and beautiful hand-carved wood-panelled 'Moon Gates' adorn the room, while a wall of tiled tea bricks (compressed dried Chinese tea) and vintage 1940s tea canisters celebrate the link between China and London and its old tea warehouses. David Yeo's vision naturally extends to the table setting itself with a beautiful collection of crockery and tableware all made exclusively for Hutong.
To make a reservation, visit hutong.co.uk.