Get more bang for your buck with properties in the Spanish sunshine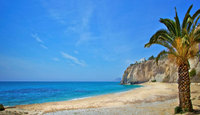 According to new figures from Rightmove, average UK house prices have exceeded £250,000 for the first time signalling a much welcomed pickup in the market. With an increase in average house prices of 1.2% over the past month alone, buying a home in the UK will now cost on average £252,796.

As well as bolstering overall market sentiment, this news may come as reassurance for existing homeowners looking to cash in and move to sunnier climes, escaping the hustle and bustle (and rain!) for a more subdued, sun soaked Mediterranean lifestyle.

Indeed, for home-buyers looking for a place in the sun, most will find that their money stretches a long way in Spain, one of the UKs top holiday home destinations, where three-bedroom townhouses in established areas of the Costa Blanca are realistically available from just €160,000, thousands under the average asking price for a similar property in the UK.

Marc Pritchard, Sales and Marketing Manager for leading Spanish house builder Taylor Wimpey Espana comments, "Although the Spanish housing market continues to be challenging, our cautious acquisition of new outlets in outstanding locations, where clear value can be demonstrated, has led to a significant increase in sales in H1, and is anticipated to contribute positively to 2014 performance. We completed 27 homes in Spain during the first half of 2013 (H1 2012: 13) at an average selling price of €215.8k (H1 2012: €212.9k).
"For many of our buyers it's a lifestyle choice and they're attracted by the climate, amenities and culture. It also helps that Spain offers luxurious yet affordable properties with cheap and easy access from the UK. The country that I have lived in and loved for 20 years ticks a great many boxes that Britain simply doesn't. Here at Taylor Wimpey Espana we are able to provide the discerning buyer with prices, properties and a stress free Spanish life they cannot refuse."

You can certainly get more bang for your buck in the Spanish sunshine. According to Spanish property portal Kyero.com's latest House Price Index (July 2013), the national average asking price across Spain is €253.000 (£216,792) considerably lower than on UK shores with many properties being sold at bargain prices.

With premium frontline locations surrounded by crystal clear turquoise waters and miles of white sandy beaches, coupled with year round sunshine and gastronomic delights that the country is famed for, there is so much more to take advantage of for a snip of the price of the British equivalent.

From just €249,000 check out the brand new La Vila Paradis apartments which enjoy a stunning location on the beachfront in Villajoyosa, a picturesque Spanish fishing town on the Costa Blanca world renowned for its delicious chocolate!

These unique apartments of 2 or 3 bedrooms and 2 bathrooms, are built to the highest specification and enjoy beautiful views over the Paraíso Beach, the Mediterranean Sea, the pool and private gardens of the development.

Or for those looking for a bargain that you would be hard pushed to find back in the UK, why not take a look at Lagunas del Sol at just €140,880. This development is a residential complex set in a beautiful rural area and located close to the heart of Ciudad Quesada in the Costa Blanca. The development is made up of townhouses designed in a natural setting and very close to the beautiful beaches that this area is famous for.

The properties have been built on two floors with 3 bedrooms, a garden and private parking. All the houses have been built to excellent specifications and enjoy outstanding views towards the swimming pools and gardens.

For more information about investing in a beautiful Spanish property, visit taylorwimpeyspain.com.