Exchange rate slices 10% off Brazil property prices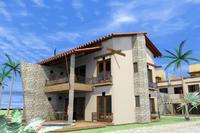 The Brazilian Real has taken a tumble recently, particularly against the US Dollar, whilst also reaching a four-year low against Sterling and the Euro. Boutique Brazil estate agent uv10.com is encouraging investors to seize this timely opportunity.
Samantha Gore, Sales Manager for uv10.com, says, "If they take the plunge right now, buyers from Europe and America have the chance to take advantage of these favourable exchange rates and make significant savings. Prices are in the region of 10% more affordable than they were this time four years ago, which is as good an incentive to buy as any."
At the time of writing, 100,000 Brazilian Reals would cost 44,365 US Dollars, 29,759 GBP or 34,512 euros. Turn the clock back four years and that same 100,000 Reals would have cost 49,906 US Dollars, 31,145 GBP or 36,020 euros. The Brazilian Real's weakness is a foreign property investor's strength.
The trigger for the currency's fall in value is partly attributed to social unrest in Brazil. Leader Dilma Rousseff has proposed a national pact, supported by 68% of Brazilians according to a Datafolha poll, to calm the complainants by improving public services such as healthcare, education and transport, and by guaranteeing a balanced budget. Another factor is lower than expected GDP growth in 2012 of 0.9% (UK figure was only 0.3%) but the Finance Minister assures us that the Brazilian economy is in a process of gradual acceleration with between 3 and 4% growth likely for 2013.
Seize the Exchange Rate Opportunity and Buy an Apartment at Shamballa:
uv10.com is promoting Shamballa, a gated residential condo community just five minutes walk from the thriving town of Sao Miguel do Gostoso, 1.5 hours drive north of Natal. Occupying a tranquil spot just a few hundred metres from 30km of pristine white sand beach, Shamballa (a 'place of peace, tranquillity and happiness' in Sanskrit) already has a range of amenities including sports courts, social and barbecue areas, a yoga studio, children's playground and huge pool areas with swim-up bar. With facilities and infrastructure now complete and plots 90% sold, uv10.com is now promoting a limited selection of stylish two bedroom off-plan apartments priced from as little as 140,000 Brazilian Reals (approx 41,500 GBP).
Ideal for holidays or lucrative rental income, the 24 apartments will be constructed in stages and fully completed by December 2014. Payment can be spread out over the construction period or made upfront in order to secure a special discount. Full management and maintenance services are offered as part of the condo services and rentals will be handled onsite. Net returns are predicted at 10 to 11% net per annum based on just 120 days rental.
Sao Miguel do Gostoso has bags of character, bougainvillea-draped multicoloured houses, white sand beaches, warm safe waters, a day Spa, boutique hotels and fresh seafood restaurants. The property market has seen sharp increases over the past two years with strong local and international demand – including a large number of employees contracted to work in the booming wind-farm industry.
For more information, visit uv10.com.