Great style and value in New Look's summer maternity wear collection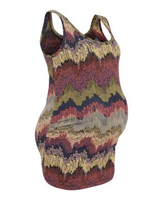 Mum's the word? Not for mums-to-be! From sizzling summer frocks to comfortable tanks and tees, shopping for beautiful bump-friendly styles has never been easier thanks to the fabulous affordability of New Look's summer maternity wear collection - now available in-store and online at newlook.com.
Tunics and vests have long been must-have wardrobe pieces for mums-to-be. But New Look takes maternity style up a notch by incorporating the hottest summer trends into its collection. Striking prints are the talk of the season, and New Look's collection channels every inspiration from Aztec to super-chic Oriental, and all manner of motifs from sleek linear geometrics to fanciful birds and butterflies. Take a striking purple and green zig zag vest paired with leggings and comfortable flats or sandals, this totally on-trend top is surely the perfect pick for any mum-to-be headed to a picnic or music festival this summer.
In need of some bump-tastic bottoms? Bump-friendly, supersoft shorts and skinny jeans from New Look combine practical comfortable with hot summer style, while drawstring linen trousers are the perfect choice for staying cool and casual throughout a day at the beach. And, as coloured jeans are red hot this summer, New Look has introduced shades of purple, magenta, and jade into its maternity denim collection.
Mums-to-be also need fabulous summertime frocks. New Look's maternity dress collection has something to suit every occasion, from super-comfy easy-to-wear maxis to bump-hugging bodycon dresses - perfect for date night! The maternity black lace bodycon dress that provides a truly bumptastic interpretation of the classic little black dress.
There's simply no better fit for mums-to-be than New Look's summer maternity range. Already hailed at the Prima Baby Awards for its unbeatable combination of style and value, New Look's fabulously affordable maternitywear collection helps mums-to-be stay at the forefront of fashion. Now, that's something no-one should keep 'mum' about!