Kenya Airways tops punctuality ratings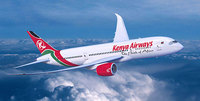 Kenya is celebrating two key achievements in the air travel industry with Kenya Airways topping London Heathrow's punctuality rankings, Nairobi's Jomo Kenyatta International Airport (JKIA) ranking among top winners named in the African heat of the World Routes Airport Marketing Awards 2013 and Moi International Airport in Mombasa recognized as the 'most improved airport on the continent' in this year's Airport Service Quality Awards.
Kenya Airways flies daily seven times a week between its hub at JKIA in Nairobi and London's Heathrow International Airport. During the month of June 2013, Kenya Airways operated the most punctual flights flying in to and out of London Heathrow International Airport. All Kenya Airways' flights departing from the airport were 100% punctual, while 83% of those arriving were on time.
This is the most successful rank the airline has attained over the last 12 months. Kenya Airways' Group Managing Director and Chief Executive Officer Dr Titus Naikuni welcomed the achievement, stating: 'At Kenya Airways, we are committed to ensuring that we deliver a world class experience to our guests whilst ensuring all their flights depart and arrive on time'.
On a daily basis, London Heathrow International Airport handles an average of 1,288 flights and 191,200 passengers with approximately 80 airlines flying in to and out of the facility. Overall, 71% of arrivals by all airlines into London Heathrow were on time while 75% of the departures were punctual.
Meanwhile, Kenya's airports themselves are celebrating recent successes with Jomo Kenyatta International Airport and Moi International Airport scooping top honours in the prestigious World Routes Airport Marketing Awards 2013 and the Airport Service Quality Awards.
JKIA bagged the award in the 'Over 4 Million Passengers' category during this year's awards that measure airports' route successes, growth in capacity and marketing activities for the year. The recognition of Moi International Airport is the first time a Kenyan airport has received the award by the Airports International Council, which recognises airports that achieve the highest passenger satisfaction ratings – the benchmark for airport excellence.
Kenya Airports Authority's General Manager for Marketing and Business Development, Lucy Mbugua, said the recognition was timely, coming as JKIA underwent major upgrading and modernisation works, which will secure its position as a regional hub.
She said, 'The stature of JKIA has grown significantly in recent years with the increased passengers and cargo traffic in to and out of the facility. We expect even further growth moving forward as further capacity is unlocked by on-going works which will improve level of service, security and controlled access to meet international standards, thus taking advantage of the strategic location of JKIA to position it as the premier aviation hub of Africa.'
On-going works at JKIA include construction of a new Terminal 4; renovation of the existing units (Terminal 1, 2 and 3); construction of remote stands for parking aircrafts as well as a second runway.
For more information on Kenya visit magicalkenya.com.