Flashback: The Very Best of Imagination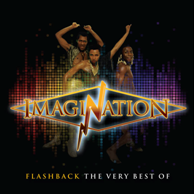 One of the most unique, genre defining and flamboyant soul groups of the past three decades Imagination will return on 7 October 2013 with Flashback: The Very Best of Imagination via Sony Music. Featuring 13 uplifting soul classics that helped cement Imagination's dominance of the charts in the early 1980's, the album also contains two brilliant new Imagination tracks, the first recorded as Imagination in over 25 years.
From the very opening bars of the oozing soul of 'Body Talk' through the sparkling and uplifting 'Flashback' and 'Just An Illusion', Imagination presented perfect pop songs for a more daring and experimental age. As lead singer and co-songwriter Leee John dressed in gold lame crawled his way on all fours, through the audience, and onto the Top Of The Pops stage, he secured Imagination's position as essential 80's crossover soul-dance hit-makers and influencers for future generations of pop stars.
Over the years, Leee John, the North London soulboy-made-good has created an impressive inventory of top-drawer projects as solo artist, songwriter and performer. However, for the release of Flashback: The Very Best of Imagination, he has returned to his roots, adding to the Imagination legacy of 'Music and Lights' and 'In and Out of Love' with the first new Imagination tracks for 25 years, bringing the story full circle. Ably demonstrating John's rare vocal versatility, 'The Truth' is a bold and romantic ballad with gospel overtones, while 'Krash (All Nite Long)' echoes the vibe of Imagination's hedonistic heyday.
Leee John is one of the hardest working men in music, touring both as Imagination and as Leee John dipping into the pop and jazz pool, he has his own radio show, has recorded songs for charity and is currently producing Flashback, a film of the history of British black music for which more than 80 interviews are already in the can, including Beverley Knight, Eddy Grant, Trevor Nelson, Omar, Geno Washington, Shalamar's Jeffrey Daniels, Boney M's Bobby Farrell and Ruby Turner.
History records that Imagination had hits in no fewer than 28 countries worldwide. In the UK alone, their proud record included five consecutive gold albums and five top ten hits, nine top 40s and an even dozen chart singles in total. At the height of Imagination fever, as one of the most recognised groups on TV and stage, one tour had them playing seven nights in a row at London's Dominion Theatre.
The Imagination legacy continued in the form of samples and adaptations by other major contemporary stars. In 1998, on their self-titled debut album, Destiny's Child (complete with Beyoncé), recorded Illusion, which quoted from 'Just An Illusion'. Leee himself featured on DJ Dero's 2005 rendition of the song, which saw prominent active service the same year as the basis of Mariah Carey's 2005 top ten single Get Your Number. 'Flashback' was sampled by Boards Of Canada, 'Music & Lights' by Tiger & Woods, 'All Night Loving' by 88 Keys featuring Kanye West. The list is long.
Flashback: The Very best of Imagination is released via Sony Music on 7 October 2013.
Full-tracklisting:
1. Body Talk
2. In And Out Of Love
3. Flashback
4. Burnin' Up
5. Just An Illusion
6. Music And Lights
7. In The Heat Of The Night
8. Changes
9. Looking At Midnight
10. New Dimension
11. Thank You My Love
12. Found My Girl
13. The Art of Love
14. The Truth (Imagination feat. Leee John)
15. Krash (All Nite Long) (Imagination feat. Leee John)
A deluxe digital version, containing three bonus tracks ('Instinctual', 'Passion' and 'Mighty Power') will be available to pre-order on iTunes from 29 July.
Flashback: The Very Best Of Imagination is available for pre-order now at smarturl.it/ImaginationFlashback