New Saturday night schedule for Radio 1 and Radio 1Xtra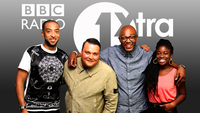 BBC Radio 1 and Radio 1Xtra have announced a fresh new line-up for Saturday nights - with new shows for MistaJam, Charlie Sloth and DJ Target during the weekly 12-hour simulcast when Radio 1 and 1Xtra come together on air.
From 21 September, Saturday nights will start with MistaJam at 7pm, followed by Charlie Sloth at 9pm and DJ Target at 11pm. The Radio 1Xtra simulcast will then continue as usual with shows from Diplo and Friends; Friction and Seani B until 7am.
Talking about the changes Ben Cooper, Controller of BBC Radio 1 and Radio 1Xtra, says: "I'm very excited about having a great new line-up for the next generation of Radio 1 and 1Xtra listeners."
MistaJam joined Radio 1Xtra in 2005 to present an overnight Thursday night show. He has quickly risen through the ranks at the station, and currently presents the weekday evening (Monday-Thursday, 7-10pm) show, playing future classics – cutting-edge new music from a 1Xtra perspective. He has also hosted a Friday night 1Xtra show, as well as a Saturday night simulcast show.
Speaking about his new show MistaJam says: "It's an absolute honour to be given the chance to lead the 1Xtra takeover of Radio 1 on a Saturday night. I've grown up listening to Trevor Nelson and he's still at the top of his game so it's a dream come true."
Rising star Charlie Sloth joined Radio 1Xtra in 2010 to host a Friday night hip-hop mix show (1-4am) and a Tuesday morning (2-4am) hip-hop show simulcast across both networks. Since 2012 the self-proclaimed People's Prince has also been the voice behind Radio 1Xtra's weekday drive time show (4-7pm). In 2013, Charlie was nominated for two Sony Radio Academy Awards for Best Entertainment Programme and Music Personality of the Year.
Charlie says: "Words can't describe how happy I am, it's like a dream come true for me and something that I've worked towards my whole career, especially to be succeeding a legend like Tim Westwood who has done so much for the game. I know they are big shoes to fill, but luckily, man's got fat feet."
DJ Target has been a member of the Radio 1Xtra family since 2007. Target has previously hosted the Sunday night 100% Homegrown show - wholly dedicated to championing the sound of UK black music. He currently presents a Friday evening (7-10pm) show on the network as well as the 4-7pm weekend show - championing new and emerging UK music. As well as a DJ, Target is part of one of the UK's best-selling and well-known urban acts, east-London collective Roll Deep.
Target says: "I grew up listening to that exact slot, Saturday night, 11pm-1am on Radio 1, so for me to now be able to do a show on Saturday night at that time on 1Xtra and Radio 1 is like a dream come true. I'm so excited I could literally jump up and grab the moon, and I'm just looking forward to getting my teeth stuck in and killing it on a Saturday night."
Radio 1Xtra has also announced that new signing Clara Amfo will become the host of the Weekend Breakfast Show (weekends, 7-10am) on Radio 1Xtra.
The Surrey born presenter is the current voice behind The Official UK Top 40, 20 and Official Chart Update on various MTV channels; has hosted her own radio show on Kiss FM UK (weekdays, 3-7pm and Saturdays, 6-10am); and was nominated for the prestigious 'Rising Star' award at the 2012 Sony Radio Awards.
Clara will present the Radio 1Xtra Weekend Breakfast Show from Saturday 21 September 2013, taking over the reins from Yasmin Evans who left the show in July to co-host 1Xtra Breakfast (weekdays, 6-10am).
Clara says: "I'm absolutely delighted to be joining Radio 1Xtra. I have been a fan of the station since its inception. I respect and admire all of its DJs and presenters and I can't wait to be a part of the BBC family."
As a result of these changes, Radio 1 and 1Xtra will be saying goodbye to Tim Westwood.
Westwood, regarded as a pioneer of the UK hip-hop scene, joined Radio 1 in 1994 to present the station's first rap show. He has also been a key part of the Radio 1Xtra schedule over the years, having hosted a Sunday night show (10pm-12midnight) as well as the drive time show(weekdays, 4-7pm) on the network.
Talking about Westwood, Ben Cooper says: "I'd like to thank Tim for the last 20 years on Radio 1 - his passion for hip-hop is legendary - I wish him all the very best."
Trevor Nelson, a legend in the urban music scene, and current host of the 7-9pm Saturday night simulcast show has just renewed his contract with Radio 1Xtra, presenting his weekday show on the station (weekdays, 10am-1pm). Trevor will continue to be part of the Radio 1 family and will also continue to present his Wednesday night soul show on Radio 2.