Used car values continue to rise year on year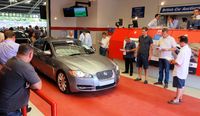 Following the trend set by other sectors of the UK economy, July was also a good month for used car values according to the latest data from vehicle remarketing specialist, British Car Auctions (BCA). The latest BCA Pulse report shows that year-on-year values are up by 11.2% as good quality stock remains in short supply. In particular, the company reports that demand from professional buyers has continued to be relatively strong despite the market entering one of the traditionally slower times of the year.
Across the board used cars averaged £6,875 in July, down by £125 compared to June, but significantly ahead of July 2012 by £695 (11.2%). Average mileage continues to fall and cars are one month younger when sold in 2013 compared to last year.
Commenting on the figures Tim Naylor, Editor of the BCA Pulse Report said: "The summer holiday period is typically quieter in terms of buying activity in the wholesale markets, but that is being balanced by the on-going shortage of good quality used cars. This means there is plenty of competition for cars that feature a decent specification, an attractive colour and a sensible mileage.
"In particular, cars entered from dealer part-exchange sources have outperformed the market in recent weeks because these are generally very affordable. There is also continuing demand for cars offered for sale in ready-to-retail condition and these examples will typically be sold for values well in excess of guide price expectations."