New Look now stocks dozens of prom dress styles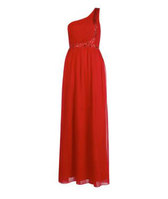 Dreaming of red carpet glitz and glamor? Slip into one of New Look's incredible prom dresses for a taste of the star treatment. New Look's diverse range features dazzling gowns to suit any occasion, and they're all available right now in-stores and online at newlook.com.
The new prom dress range from New Look features sweeping maxi dresses that exude elegance and grace. Less is more with these classic prom dress styles, but embellishments along the neckline or waistline add a touch of opulence to each gown. A stunning fire engine red one-shoulder maxi from New Look's collection with simple embellishments on the waist and shoulder. Paired with sparkling statement earrings and a clutch bag, it's sure to be a showstopper at prom.
Love The Great Gatsby? Old Hollywood dress styles are making a comeback this season. New Look's range includes flirty flapper-style dresses and sleek silhouettes straight out of the 1920s. This softly pleated halterneck prom dress in a lovely cream hue is perfect for creating a throwback look worthy of Daisy Buchanan.
Something more modern? Go bold with colour, show a little skin with a sexy side cutout, or dare to wear to wear prints. New Look's range features all of these chic styles and more. Headed to a wedding? This rage pink floral prom dress by Madame Rage is the perfect choice to celebrate summertime nuptials. Pair it with a clutch bag and wedge sandals for ultra-cute look.
Gals who want to get all gussied up for proms, weddings, and galas know just where to shop this summer. Already Britain's No. 1 retailer in dresses, New Look is now the go-to brand for this season's most enchanting prom dress styles.