Deezer celebrate 2 million Facebook fans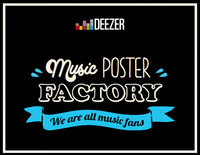 To celebrate reaching 2 million Facebook fans, music streaming service Deezer are inviting you to get in touch with them via Facebook and enter their Music Poster Factory competition. They have reached an impressive 2 million Facebook fans, and to say thanks they are giving away over 80 prizes to fans of the fantastic streaming service. They're inviting fans to let their imagination run wild in the Deezer Music Poster Factory and win top prizes including top-of-the-range headphones, speakers, and Deezer Premium+ subscriptions.
apps.facebook.com/musicposterfactory
How it works:
Pick a poster template.
Add your own catchy text- showing how much you love music! Original and witty posters are sure to get most votes.
Choose a colour and pick an illustration. All drawings are by fantastic illustrator Mcbess (facebook.com/mcbess)
Create your poster and see it in the poster gallery. You can make as many posters as you like.
Share with your friends, and receive votes.
Posters with the most votes could win:
1st - A Parrot Zikmu Solo wireless stereo tower speaker (£799). Fusing extraordinary sound with timeless design, the tower offers a power of 100W RMS.
2nd - 5 Simple Audio Listen Bluetooth speakers (£499). Beautifully designed to deliver audio that takes your breath away.
3rd - 10 Parrot Zik wireless headphones (£349). Stunning sound from the powerful Digital Sound Processor, active noise cancelling, and the "Parrot Concert Hall" effect.
4th - 15 Simple Audio Go Portable Mini Bluetooth Speakers (£99). Wireless and rechargeable, the speakers work with almost any Bluetooth-enabled smartphone or tablet.
5th - 50 3-month Deezer Premium+ subscriptions. All the music you love, in an instant, without limits.