How to get more out of Adelaide for less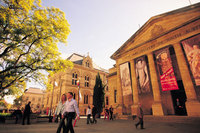 Enjoy the best of Adelaide for free, or next to nothing, with the following ten cost-saving tips:
Free Guided City Tour
Operated by volunteers, Adelaide Greeters helps visitors discover Adelaide by foot, bus, train and tram, spending 2-4 hours exploring the city from a local's perspective.
Free Transportation By Bike
Adelaide City Council's bike scheme offers free unlimited daily bike hire during the opening hours of any of the nine hire locations around the city. A bike helmet and a padlock are provided.
Free Bus Service
Visitors can also get around the city centre for free on the either the 'Terrace to Terrace' tram service, the City Loop bus (99C) or the Adelaide Connectorbus (linking north and south Adelaide).
Soak Up The Local Culture
Adelaide offers bountiful cultural attractions for free, from Aboriginal history to architecture and art galleries. The South Australian Museum, located in the city's cultural hub of North Terrace, is a haven for fascinating exhibits ranging from giant squid to the world's largest collection of Australian Aboriginal cultural objects, with over 3,000 artefacts on display.
There is also Tandanya (the National Aboriginal Cultural Institute), the Art Gallery of South Australia, the Jam Factory (for a variety of handmade crafts including glass, ceramics, silver and leather).
Catch Some Sporting Action
What better way to enjoy a game of cricket than at the Adelaide Oval, widely regarded as the most picturesque test cricket ground in the world. For those on a tight budget, look up a pre-season match, which is usually free.
Attend An Event
'Australia's Festival State' hosts more than 400 festivals throughout the year. From sporting events to music concerts, food & wine appreciation to comedy shows, there is something happening literally every day, many of which are free to attend. The Adelaide Festival Centre also offers great discounts for international students.
Enjoy Some Of The Sweet Stuff
Head to Haigh's Chocolate Factory for special chocolate tastings, to see chocolates being made by hand and discover the heritage behind this, Australia's oldest chocolate manufacturer and a true Aussie icon. A free factory tour takes around 20 minutes with the chance to enjoy a few delicious samples.
Head To The Beach
The old adage that life's a beach is certainly true of Adelaide, with plenty of beautiful beaches less than 30 minutes from the city. And what's more, Adelaide's warm climate means you can enjoy them practically all year round. The most popular are the iconic Glenelg, Henley, Brighton and West beach, all with a vibrant pub culture and full of cafés, restaurants, little shops and miles of clean white sand.
Indulge In Some Window Shopping
Rundle Mall is the shopping heart of Adelaide, located right in the city centre with more than 600 retail stores. The Mall is renowned as a venue for performances, promotions and events, from fashion parades, to buskers and street performers, all available for free.
Eat Like A Local At Adelaide Central Market
Adelaide is all about fresh produce so if you want to eat like the locals head to Adelaide Central Market. This is the mother of all produce markets, with some three million people passing through it every year eager to see the 80+ speciality stores representing over 60 nationalities. Bargain hunters should visit after 1pm on a Saturday when everything is heavily reduced.