Humberside rated one of UK's best airports for customer experience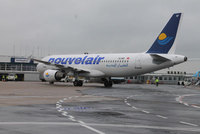 Humberside Airport has been rated one of the UK's best airports for customer experience.
Humberside was just pipped to first place by London Southend in a customer satisfaction survey conducted by Which? and was ahead of other airports including Manchester, Leeds Bradford, East Midlands, Birmingham, London Heathrow, London Gatwick and London Stansted.
An overall rating of 81% was attained by Humberside and it gained the highest possible ratings in four categories, including airport design, information and navigation, airport security and passport control, while also being rated highly for airport environment.
A choice of daily, year-round scheduled services are offered from Humberside to Amsterdam with KLM, Aberdeen with Eastern Airways, and starting from 28 October 2013 a new service to Denmark's capital city, Copenhagen, with Scandinavian Airlines (SAS).
This year the convenient gateway airport has been providing a programme of holiday flights to Alicante (Costa Blanca), Bourgas (Bulgaria), Dalaman (Turkey), Dubrovnik (Croatia), Enfidha (Tunisia), Funchal (Madeira), Genoa (French Riviera), Jersey, Naples (Italy), Palma (Majorca), Verona (Italy).
Paul Litten, Humberside Airport's Commercial Director, said: "Flying locally attracts many people to Humberside Airport, and this latest ranking clearly highlights what people value from their Humberside experience. There are over 2 million people that live within an hour's drive of Humberside and the airport's convenience takes the stress out of travelling to airports further afield and outside the region. Next year we will be redoubling our efforts to try and ensure we make the top spot as customer service is key."
It's a year since the ownership of Humberside Airport changed hands from Manchester Airports Group to the Eastern Group, which also owns Humberside-based Eastern Airways.
The bar and restaurant facilities in the terminal have recently been refurbished and new passenger seating has been installed on the concourse.
The airport is already the UK's second busiest airport-based heliport and home to the three major offshore helicopter companies, Bristow, CHC and Bond that provide services to the Southern North Sea gas platforms. From November 2013, CHC will base an additional helicopter at Humberside to support Centrica Energy's offshore activities. Bristow Helicopters has also won the contract to supply the UK's helicopter search and rescue service from 2015 and will be open a new facility at Humberside to support this operation from the region.
For more information, visit humbersideairport.com.