Discovering wines of the Languedoc Roussillon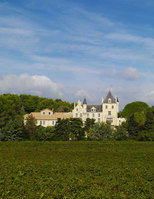 Chateau Les Carrasses, a charming 19th century wine domain in the South of France offers guests an unusual behind the scenes insight into winemaking in the Languedoc Roussillon. A once thriving wine producer, the Chateau has been returned to its former glory as a boutique winery in partnership with one of the Languedoc's top winemakers, Vignobles Bonfils.
Aimed at wine enthusiasts and professionals looking to embark on an exciting journey of discovery, learning and fun, Chateau les Carrasses provides guests with a rare opportunity to stay at an authentic wine domaine whilst offering a range of highly personalised one to three day wine tours.
With first class instruction, an introduction to some of the region's most prominent vignerons, exclusive access to the Bonfils estates and vineyards and an opportunity to taste an unusual variety of Languedoc wines, the tours offer a rare insider's view to wines and winemaking in the Languedoc Roussillon. Guests can even savour the relaxing pace of a wine tour by barge, travelling along the picturesque Canal du Midi - hearing about the history of the wine region (and the Canal) and sampling the wines whilst floating past the lush vineyards.
Les Carrasses / Bonfils Vineyard Tours
Vignobles Bonfils have wineries that range from small, boutique wineries to large scale facilities, from typical Languedoc reds and whites to more international styles encompassing sweet and sparkling wines, all mastered by a group of passionate specialists that are willing to share their knowledge and experience. The tours are run in collaboration with Wendy Gedney, qualified wine teacher and author of a book about the wines of the Languedoc-Roussillon that is due for release later this year. Wendy's passion and extensive knowledge of Languedoc wines combines with an approachable guiding style and a rare ability to explain wine at all levels. Along with her small team of qualified tour guides she loves to take guests off the beaten track to showcase the extraordinary diversity of wines from the region - La Clape, Corbières, Limoux etc. exposing the passion and eccentricity of the wine makers and their wines.
Languedoc Roussillon
Languedoc wines are widely predicted to be the next big area for 'French Grand Cru'. The Languedoc region is responsible for more than a third of France's total wine production and the Languedoc has undergone a colossal revolution over the last 15 years causing an explosion of quality and variety, transforming the area into one of the most exciting wine producing regions in the world. A remarkable combination of varied terrain and climate, different grape types from old vines (some of the best Carignan vines are 120 years old), to modern hybrids, a diversity of styles, philosophies and techniques compliment open minded, independent thinking. Wine growers in the Languedoc are less restricted to producing AOP wines than winemakers in Bordeaux and Burgundy as land prices are still reasonable, reducing the need to conform to the "brand" of the AOP. This has led to a fearless, experimental spirit coupled with a commitment to innovation and quality that is producing electrifying results. The Languedoc Roussillon is creating wines in the "old world style with a new world approach" explaining the sudden escalation of Languedoc wines on the wine lists of many top class restaurants.
About Chateau les Carrasses
Like all the best French wines, Chateau Les Carrasses is an assemblage of complimentary ingredients where the whole is much more the sum of its parts – blending the privacy and independence of a self-catering villa with the character and authenticity of a wine domaine, the relaxed yet attentive services of a private club and luxury facilities unmatched in this region. Boasting 28 unique and chic one to three bedroom residences fashioned from the original buildings of the estate and enhanced by a wealth of luxury facilities including an elegant brasserie and wine bar where guests can trial the Chateau's own selection of wine produced in 2012. Wine aside there is so much to do in this exciting region from exploring the historic towns and fishing villages to cycling along the nearby Canal du Midi or enjoying a delicious plate of fresh Mediterranean cuisine by the poolside. Chateau les Carrasses epitomises French living at its best.
Chateau les Carrasses have a special offer for September and October - book a wine day out for a minimum of 2 people and receive 10% off your accommodation (2 nights minimum). A stay in a Chateau Suite (sleeps 2) is from £185 per night.
A day of Wine Tasting by barge is from £115 per person - includes vineyard visits, barge trip, all tastings, lunch and transport. Available days - 10th Sept, 17th Sept, 19th Sept, 25th Sept 2013
For further information on Chateau Les Carrasses and the wine tours, visit lescarrasses.com