Cliff Richard releases his 100th album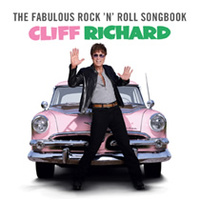 Cliff Richard, the UK hit-maker, releases his 100th album 'The Fabulous Rock 'n' Roll Songbook' on 11 November 2013. This new studio album of 15 great rock 'n' roll tracks was recorded live at the Blackbird Studio and The Parlor in Nashville, Tennessee, and is Cliff Richard's tribute to the greats of rock 'n' roll who inspired and influenced him, such as Elvis Presley, Little Richard, Chuck Berry and Buddy Holly.
The Fabulous Rock 'N' Roll Songbook sees Cliff Richard, one of the UK's first great rock 'n' rollers come full circle and sing heart-felt new versions of 'iconic' songs such as Teddy Bear (Elvis Presley), Rave On (Buddy Holly), Johnny B Goode (Chuck Berry), Rip It Up, (Little Richard), Dream Lover (Bobby Darin), Wake Up Little Susie (Everly Brothers) and Dream Lover (Bobby Darin). His 100th album release also features a brand new track One More Sunny Day. The first single to be taken from the album will be Rip It Up – this will be Cliff's 140th single release.
Cliff Richard said about recording the album: "It was like being back in the 50's with The Shadows in Studio 2 at Abbey Road - only it wasn't The Shadows, and it wasn't Studio 2 and it wasn't the 50's. I was in Nashville, Tennessee at the Blackbird Studio with five great Nashville musicians and we were recording....LIVE."
The track-listing is as follows:
1. Rip It Up
2. Wake Up Little Susie
3. Poetry In Motion
4. Sealed With a Kiss
5. Stood Up
6. Such a Night
7. School Days
8. Teddy Bear & Too Much (medley)
9. Don't Let Go
10. Dream Lover
11. Stuck on You
12. Fabulous
13. Rave On
14. Johnny B. Goode
15. One More Sunny Day
Cliff Richard said: "This was my chance to pay tribute not only to (in my humble opinion) one of the greatest advances in musical history, but also the artists who took Rock 'n' Roll to the top of the charts World-wide. As with all great art forms Rock 'n' Roll did not stand still and there have been some phenomenal changes, bringing it to where we are now. All I know is that "in the beginning" what kicked the whole thing off was THE FABULOUS ROCK AND ROLL SONG BOOK. That whole period was new and unbelievably exciting, and to think that I was there!! Saving up my pocket money for weeks so that I could buy Elvis's first album - borrowing someone else's collection of Little Richard (my name in part, was a tribute to him) and skipping school so as to get seats to see Bill Haley play live."
The Fabulous Rock 'N' Roll Songbook is released on 11 November 2013 on Rhino.