Used car sales return to pre-recession levels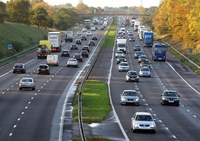 Used car sales hit 7.1 million units in 2012, outpacing new car sales by climbing 6.4% and returning to pre-recession levels, according to the new Used Car Market Report, published by British Car Auctions (BCA).

The unique and definitive report also reveals that the used car market reached a record high in terms of value in 2012, at £38.1 billion. In particular sales of younger cars increased for the first time in 3 years, rising by 18.6% to 762,000 and reversing the trend seen since the recession of volume buyers of vehicles holding onto them for longer.
The long-term impact of the fall in new car sales during and immediately following the recession can, however, still be seen with the average age of vehicles on UK roads reaching a 30 year high at 7.59 years. Also of concern is the fact that, according to the BCA Used Car Market Report, there has been a 5% rise in households without a car, with London recording a 12% increase in 'no-car' families.
"This year's BCA Used Car Market Report illustrates very clearly how nearly five years of financial anxiety have affected motorists' decisions on buying a used car, as well as the impact of prolonged low new car sales on the used car sector", explained Tim Naylor, Editor of the Used Car Market Report.
"The average age of cars on the country's roads fell to 6.69 years in 2004 but since then it has steadily risen, reaching a 30-year high in 2012. And the SMMT's current new car market forecasts mean the car parc will continue to age until much higher new car volumes enter the parc for several years to offset the impact of the record high new car volumes of the early 2000s.
"However older cars on the roads isn't necessarily bad news. Testimony to better build quality in the last decade, three-quarters (76.3%) of cars now make their twelfth birthday and more than half (51.6%) are reaching the 14 year mark with these vehicles providing on-going income opportunities for the retail motor sector.
"Overall our Used Car Market Report for 2013 suggests that the UK may be turning a corner in consumer confidence as lower inflation, a slow down in fuel price rises, improving employment prospects and a more stable economy seem to be helping to restore car buyers' confidence. In particular, low and 0% interest offers could be creating fresh demand for new cars, with 40% of motorists who responded to our research saying that they were considering buying new rather than used for their next car. This is good news for the market as a whole as new cars create used car stock in future."
Key findings

The ratio of used car sales to new car sales increased for the third year running to 3.5:1 in 2012

Sales of 0-2 year old cars rose by 18.6% in 2012, increasing their share of the used car market - up to 10.7%

Sales of cars in the 3-5 year age group also grew by 6.1% and sales of 6-8 year old cars rose for a fifth consecutive year

Sales of vehicles of over 9 years old remained flat

Hatchbacks increased in popularity in this year's BCA survey with 4% more car owners (51%) choosing this option at the expense of saloons which saw their market share drop by a similar amount to 22%

MPVs' share of the used car market slipped to 7% from 10% a year earlier

Diesel-engined cars' share of the used car market rose 3% to 36% - a level last seen in 2010, as growing numbers of diesels entered the used car supply chain

Three quarters of motorists bought a used car rather than new in the past two years with 22% of motorists viewing used cars as offering better value for money than new

But low or 0% finance would tempt 17% of potential car buyers to 'certainly' consider a new car instead of used next time they change. A further 23% said it was 'quite likely' they would give a buying a new car some thought.

There was a rise in the number of car owners who said they will 'certainly' or 'quite likely' buy a car in the next 12 months – up 4% to 14% year on year

Only one in 10 respondents said they would 'buy the same type car again', a 50% drop over the past three years

Four out of five respondents said they had already taken steps to cut their car running costs – 'keeping tyres at the right pressure', driving more slowly', 'avoiding heavy braking', 'accelerating less quickly' and having 'a more fuel efficient car' at the forefront of measures adopted

Unsurprisingly, price is the biggest influence on the way used car buyers approach their search for a suitable car, nearly two thirds (64%) of motorists cited it as the key influence followed by brand (39%) and then model (37%)
BCA commissioned BMRB International to carry out face-to-face interviews with 4,000 car owners in the UK to identify their priorities and experiences in buying and owning a used car – what convinced them to buy their latest used car, what influenced their choice of seller, what type of car they might buy next, who they might buy from and when.

For more information, visit british-car-auctions.co.uk.