Atlantic Canada serves up a range of food delights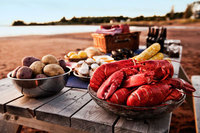 New Brunswick, Newfoundland and Labrador, Nova Scotia and Prince Edward Island (PEI) are the four provinces which make up Atlantic Canada and travellers looking to fill their tummies in 2014 will be delighted by a host of food festivals and celebrations.
New Brunswick's Indulge
For those planning their adventures in 2014, Indulge takes place in St. Andrews, New Brunswick in early September each year. The three-day event includes a pie-eating competition, live music, pumpkin carvings, cocktail and wine tasting, food sampling and demonstrations from professional chefs including a 30/30/30 competition where chefs have 30 minutes to prepare a recipe, CAD$30 to buy the ingredients and 30 minutes to cook the dish. For further information, visit indulgenb.com.
Newfoundland and Labrador's Roots, Rants and Roars
Travellers will have to book in advance to attend Newfoundland and Labrador's Roots, Rants and Roars 2014 which happens in September. It's a celebration of local and national chef talent together with the delicious cuisine found in the area including seafood and fish. The focal points of the two-day event are a 5km hiking route with food and music stations along the way, an afternoon roast event and wine tasting and the opportunity to crown the area's King of Cod. For further information, visit rootsrantsandroars.ca.
Nova Scotia Fall Wine Festival
The eighth Annual Nova Scotia Fall Wine Festival runs in mid-September until mid-October in 2014, with wine and food related events taking place throughout the province. The festival promotes Nova Scotia's amazing wines and wineries. It also celebrates the harvest season and provides travellers with a month of entertaining wine and food events - including grape stomps, winemakers' dinners, wine education seminars and much more. For further information, visit nsfallwinefestival.ca.
Prince Edward Island International Shellfish Festival
Taking place at the Charlottetown Event Grounds for four days in mid-September 2014, visitors can enjoy lots of delicious locally-sourced food at the festival's food pavilion. The International Shellfish Festival hosts a number of exciting events including culinary demonstrations by celebrity chefs, PEI's best oyster shucking competitions and PEI Potato and International chowder championships. Advanced tickets are available from CAD$12 or CAD$20 for a Weekend Pass. For further details, visit peishellfish.com.