Clinique's Breast Cancer Awareness limited edition Almost Lipstick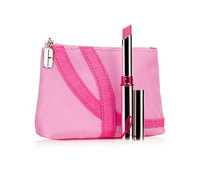 Clinique's support to the Estee Lauder Companies' Breast Cancer Awareness Campaign continues in 2013 with our limited edition pink shade of its beloved Almost Lipstick-Pink Ribbon Honey.
This pretty pink hue provides a hint of colour, and the sheer, smooth formula allows the natural lip colour to come through to create a custom-fit shade for a great cause. Housed in a pink mini cosmetic carrying pouch with a sewn pink ribbon detail, Pink Ribbon Honey is irresistibly flattering on everyone. This limited edition shade Pink Ribbon Honey will be housed in a cute pink cosmetic carrying pouch with adorable Clinique charm with the embroidered pink ribbon.
£2/€4 will go to THE Breast Cancer Research Foundation (£1/€2 from Clinique and £1/€2 from Selfridges and Boots nationwide/ Brown Thomas) from every purchase of the limited edition Almost Lipstick- Pink Ribbon Honey sold in the UK.
Since its inception in 1993 The Breast Cancer Research Foundation (BCRF) has raised over $315 million – over $35.5 million in fiscal year 2010 alone – to support the most advanced and promising breast cancer research that will help lead to prevention and a cure in our lifetime. In 2010-2011, our grants are supporting 172 dedicated researchers at major medical institutions throughout the world including six in the UK. If not for BCRF, many facts about the genetic basis of breast cancer wouldn't be known, breast cancer stem cells would still be a mystery, and personalised, targeted therapies wouldn't currently be available. BCRF-funded scientists are responsible for these and many other critical achievements. Currently, more than 90 cents of every dollar donated is directed to breast cancer research and awareness programs. With exceptionally low administrative costs, BCRF continues to be one of the most efficient organisations in the USA. Having received four stars from Charity Navigator for nine consecutive years, BCRF has outperformed 99% of more than 5,500 evaluated charities. Furthermore, the Foundation is once again listed as an "A+" charity by The American Institute of Philanthropy. No other breast cancer organisation has consistently received such high ratings. For more information about BCRF, visit bcrfcure.org.
Allergy Tested. 100% Fragrance Free
Clinique Breast Cancer Awareness Limited Edition
Almost Lipstick- Pink Ribbon Honey
RRP £16.00/ €19.00
Donation during October 2013 from Clinique counters, Selfridges, Boots and Brown Thomas while stocks last
(Pink Ribbons are available at selected Clinique counters during October)
For further information, visit clinique.co.uk.