Catching & Cooking Mud Crab in the Dampier Peninsula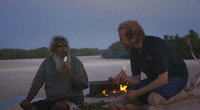 Dampier Peninsula and Cape Leveque offer the perfect getaway for the adventurous traveller. Stretching 220 kilometres north from Broome, the only access to the area is via the partially unsealed Cape Leveque Road.
Known to local Indigenous people as "Ardi" meaning heading North, a Dampier Peninsula experience offers the opportunity to stroll on secluded beaches at Middle Lagoon and Mercedes Cove and swim or snorkel in the sparkling waters.
Spend the day fishing on a charter boat or hire your own dinghy at Cape Leveque. But best of all, it gives you the chance to explore and experience the unique culture, history and lifestyle of the local Indigenous peoples.
Indigenous Experiences on Dampier Peninsula
Known by Indigenous peoples as 'Ardi', meaning 'heading north', the Dampier Peninsula is made up of many small Indigenous communities.
Meet the locals and learn about remote community life, staying at Mudnunn, Chile Creek, Lombadina, Goombaragin or La Djardarr Bay. Go mud crabbing with a local guide. And remember to visit the Sacred Heart Church, with its beautiful pearl shell altar, built by the Pallotine monks and the Indigenous people of Beagle Bay in 1917.
As you travel through this pristine area, you are asked to respect the land, the culture and the privacy of local people where access is restricted.
Getting to Dampier Peninsula and Cape Leveque
A four-wheel drive vehicle is strongly recommended for driving the unsealed road through the Dampier Peninsula - allow three and a half hours to reach Cape Leveque. During the summer the road can sometimes be closed due to flooding. Check road conditions and closures by contacting Broome Visitor Centre.
Fuel and supplies can be purchased but facilities are only available at certain locations and times. Please note dogs are not allowed, alcohol cannot be purchased anywhere on the Peninsula and medical facilities are limited.
Dampier Peninsula and Cape Leveque Accommodation
Dampier Peninsula accommodation options include unpowered camping sites and bush shelters for the self-sufficient traveller. Contact Broome Visitors Centre for information about camping fees. There are also several areas, including Middle Lagoon and Lombadina, offering simple cabin style accommodation.
If you are looking for a little more luxury, there is an Indigenous owned and operated resort offering Cape Leveque accommodation. All accommodation is limited and should be booked well in advance.
Situated on the tip of the Dampier Peninsula you will find Cygnet Bay Pearls, the oldest working pearl farm in Australia . They have a range of accommodation, activities and tours.
For more information about Dampier Peninsula and Cape Leveque, including tours, accommodation and road conditions, contact Broome Visitors Centre.