Used car values reach record levels in November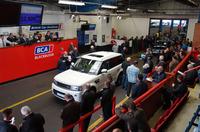 Average values continue to surge to record levels in the used car market according to leading vehicle remarketing company, British Car Auctions (BCA) with November achieving the highest monthly average since it began reporting in 2005. The year-on-year figures also showed a substantial 16%+ rise over 2012, underlining the on-going value evolution in the used car market.

November values climbed by £315 (4.3%), compared to October, to £7,489 and were up by £1,038 (16.1%), year-on-year. Perhaps also reflecting the change in attitudes to car ownership as the UK comes out of the economic downturn, average mileage on vehicles sold by BCA continues to fall year on year – down by around 2,500 miles compared to 2012. The average age of vehicles is also down year on year, by just over a month at 60 months.

Vehicles sourced from fleet & lease organisations posted the fifth record value in the past six months and continue to average well over £9,000, remaining significantly ahead year-on-year. Dealer part-exchange values reached a record level for the third month running and the seventh time this year, climbing to £3,857 and are also substantially ahead year-on-year. Nearly new values reached a highpoint for 2013, but volumes remain very low and model mix remains the most significant price factor.
Simon Henstock, BCA's UK Operations Director commented"Buyers were out in force in November acquiring stock and BCA recorded some exceptional results. Professional buyers will no doubt remember that average values rose very sharply last December due to the shorter trading month and ongoing dearth of retail-quality stock, so there was an element of 'getting ahead of the game'.
Henstock added "As in previous months, there was plenty of competition for any vehicle in ready-to-retail condition and cars with a good level of specification attracted a lot of attention from buyers. 4x4s continue to benefit from a seasonal uplift, with the average value climbing by £280 in November to £14,144. Put into context, values in November were more than £1,200 ahead of September and that's before any bad weather has arrived! Last winter, values peaked at nearly £15,000 so we expect that prices may well rise further."