Make a move to a new home thanks to Help to Buy Wales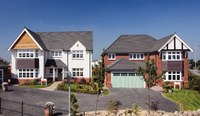 Flintshire housebuilder Redrow is urging homebuyers to make the perfect start to the year by signing up to the Welsh Government's new Help to Buy scheme.
Launched on January 2, the scheme applies to many of Redrow's properties at the Gladstone Leigh development in Hawarden, Heathlands in Buckley and Heritage Park in Penymynydd.
Redrow has already experienced a high level of interest and taken its first applications for the initiative from people looking for the opportunity to purchase one of the stunning new homes with just a 5% deposit.
Anita Williams, sales director for Redrow Homes (NW), said: "Help to Buy Wales is a £170m scheme designed to give first time buyers and families a boost onto the property ladder. Our experience so far, along with the high number of enquiries, tells us that there is a high demand. We'd advise prospective home owners to visit one of our developments to see what options are available to them.
"Flintshire house buyers have seen what good the English version of the initiative has done in nearby Chester and will be eager to take advantage of the Welsh equity loan scheme themselves."
Across the three developments, there's a wide range of attractive three and four-bedroom homes priced below the £300,000 maximum threshold which are now available to buy under the scheme.
For example, one of the designs at the Gladstone Leigh venture, the four-bedroom detached 'Stratford', boasts attractive gardens, an open-plan kitchen and dining room and a price tag of just £255,995.
Available through Help to Buy, the home could be purchased with a 5% deposit of just £12,800. Purchasers would then cover the remaining costs with up to a 20% equity loan from the Welsh Government, interest free for five years, and a 75% mortgage from a lender of choice.
For more information about Help to Buy Wales go to redrow.co.uk/helping-you-move/help-to-buy-wales.