4x4 used values rise as weather worsens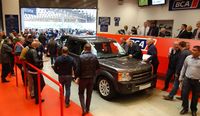 As forecasters predict a drop in temperatures over the next few days, leading vehicle auction company, British Car Auctions (BCA), has released its latest data on 4x4 used sales.
The average value for 4x4s sold at BCA during Quarter 4 2013 rose by over £1,100 compared to Quarter 3. December recorded the highest values in the second half of the year as 4x4s averaged over £15,000, a rise of £388 compared to December 2013.

Tim Naylor from BCA commented "There is a well charted trend between worsening weather conditions and rising prices for 4x4 and off-road vehicles. Add to this the on-going shortage of good quality used vehicles and high demand and it is no surprise that values climbed in December."
"We have already seen strong demand for four wheel drives in the first weeks of January, possibly prompted by the flooding that has affected many parts of the country since just before Christmas." he added. "This means values are likely to remain firm in the short term, at least."
"With buyers having to find more money for 4x4s it's crucial that they go for the best specification they can afford, as this will help the vehicle retain its value in the years ahead. Alloys, leather interior, air-con and sat-nav are all desirable, while more 'rugged' accessories such as mounted spotlights, running boards and winches can drive prices up too.
"But absolutely essential is ensuring the vehicle has a comprehensive up to date service history" concluded Tim Naylor. "It may have been no further off-road than up a suburban kerb, but a full service history from the supplying dealer gives that extra peace of mind."