Skiing with an Olympian in Whistler Blackcomb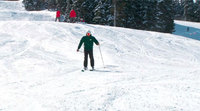 Legendary Whistler Blackcomb is widely regarded as one of the top ski resorts in North America.
It really is a dream destination for people who love to ski and snowboard. Located in the spectacular Coast Mountains of British Columbia just two hours north of Vancouver, Whistler features two majestic mountains and consistently offers the most reliable snow conditions, receiving an average annual snowfall of 11.91 metres.
Whistler broke records in December 2008 with the opening of the brand new PEAK 2 PEAK Gondola. Linking the summits of Whistler and Blackcomb Mountains, it boasts the longest unsupported lift span in the world at 3.024 kilometres (1.88 miles) and is the highest lift of its kind at 415 metres / 1,361 feet. It takes just 11 minutes to cross and opens up a whole new world of skiing and snowboarding possibilities.
Two years after that, It became even more world-renowned as the site of the alpine and Nordic venues for the Vancouver 2010 Olympic and Paralympic Winter Games.
So where did the athletes go when the games had finished? Well, luckily for those who have always fancied testing themselves against the best, some of them have stuck around. These days there is no longer any need to wonder what it would be like to ski or snowboard with an Olympian. With the 'Ski With An Olympian' scheme you can follow in their tracks, copy their technique or hear their stories.