Get cracking advises leading housebuilder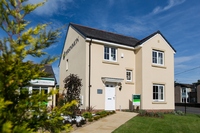 A leading Welsh housebuilder is offering homebuyers the chance to win a brand new house worth almost a quarter of a million pounds at an exciting event in Pontypridd.
Persimmon Homes will host the event at their Milford Park housing development located off Dyffryn Road in Rhydyfelin on Saturday 1st and Sunday 2nd March.
As well as a chance to look around the new development and enjoy refreshments, guests will have one chance to guess a four digit code to a special safe – if they crack the code they win a house.
The house up for grabs is a four bedroom detached property on the market for £239,995 and is located on the gorgeous Milford Park site – a small development of 48 properties combining 2, 3 and 4 bedroom homes.

The house has been built to the highest standards and specifications set by Persimmon Homes and features four bedrooms, an en-suite in the master bedroom, and large kitchen and living room.
The Milford Park development is in a superb location, with easy commuting links to the A470 and situated in the beautiful and thriving village of Rhydyfelin.
Sharon Robinson, Sales Director at Persimmon Homes East Wales, says: "Don't miss this fantastic opportunity to win a stunning new home – just come along to our Milford Park development, have a go at cracking the code on the safe and if you guess correctly you'll leave the proud owner of a spectacular brand new property. Good luck!"
For more information on Persimmon Homes, visit persimmonhomes.co.uk.